The appeal of detective stories includes our need for order when crime has introduced disorder (always a dangerous state), and our yearning for justice when something has gone wrong (which threatens our humanity). We are also drawn to them because we all live moment by moment with uncertainty and so desperately want a dependable hero.
Somehow we know it is too much to ask that we escape the uncertainty. Even if the brokenness was removed we would remain finite. The uncertainty can be endured, however, if we have a hero who can sort things out, make things right, and keep us from tumbling into a pit from which there is no recovery.
There is a reason why detective stories center around a particular detective. In the final analysis we are attracted to the stories not because of the variable crimes but because of the dependable detective. Even if he/she fails to solve the case, we know they tried their best and left no stone unturned.
As a Christian I would argue that this archetype is imprinted in our consciousness because we are part of a story in which the hero becomes the savior. All is lost until the hero produces the solution, and in the end sheds light into the shadows where death has tried to hide.
Longmire
Walt Longmire (played by Robert Taylor) is the sheriff of Absaroka County, Wyoming. It is a sprawling place, dominated by gorgeous peaks and wide lush landscapes that give the cinematographers ample opportunity to frame lovely background shots. (The series is filmed in New Mexico, but no matter—the landscape is so stunning that it is reason alone to watch it.) Assisted admirably by Deputy Vic (played by Katee Sackhoff) and by the duplicitous Deputy Branch (Bailey Chase), Longmire wrestles with the tragic death of his wife as he tries to keep law and order in a place where the citizens prize self-sufficiency and privacy. Walt's best friend, Henry Standing Bear (Lou Diamond Phillips) helps bridge the sad chasm of distrust and prejudice between whites and the Native Americans who live on a reservation within the county.
Good writing, superb cinematography, and fine character development makes me wonder why this A&E television series has not garnered more attention and awards. The filming of each episode includes a Native American consultant to assure the accuracy of what is depicted. One of the things I most appreciate about Longmire is that it keeps me interested but is never frenetic, maintaining a thoughtful pace that not only suits the setting but that seems to take me as viewer seriously.
If I lived in Absaroka County, Wyoming, I'd want someone like Walt Longmire to be wearing the sheriff's badge. In fact, I'd like someone like Walt Longmire to be the sheriff wherever I lived.
(A&E, 3 seasons 2012, 2013, 2014; each episode 50 minutes)
Sherlock
One of the primary reasons why Sherlock Holmes remains a perennial favorite is that he is a dependable hero. He may be cold-hearted and rational to a fault, he may have a drug problem and treat people abominably, he may play the violin horribly and have no friends for good reason, but we always know that when he is on the case, no better detective could be imagined.
The recent BBC series that locates the famous detective (played with superb quirkiness by Benedict Cumberbatch) in 21st century London is a fine addition to the Holmes legacy. Along with his sidekick Dr. Watson (played by Martin Freeman), Sherlock's brother, Mycroft (played with great comic effect by Mark Gatiss), and Sherlock's long suffering housekeeper, Mrs. Hudson (Una Stubbs), the stage is set for solving crimes in a way that only Sherlock Holmes could accomplish it.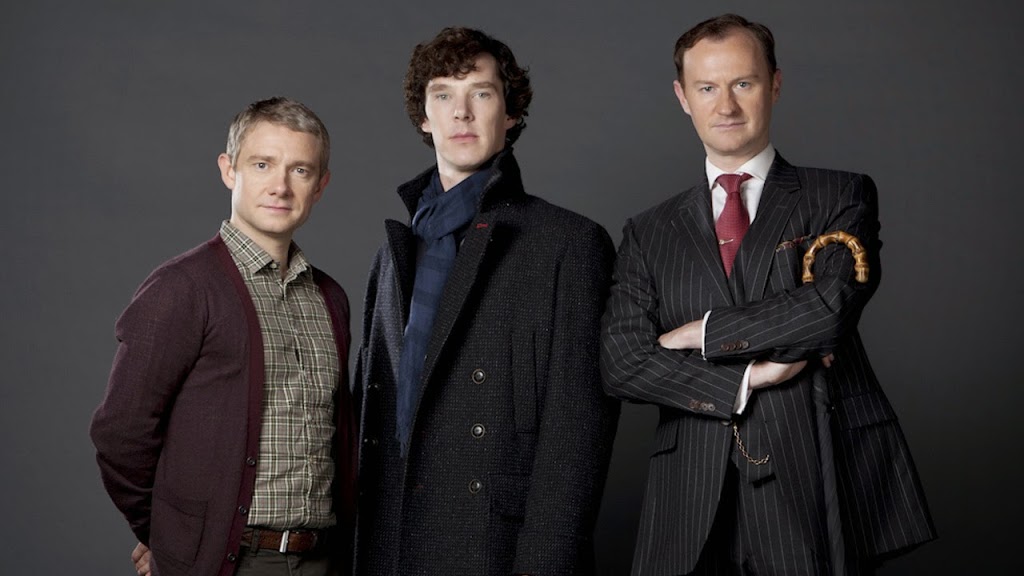 For all the changes this series brings to the classic detective, it allows Holmes to remain Holmes, and that is one reason the series succeeds. It is also produced with a clear love of Arthur Conan Doyle's detective and stories, and that love is reflected in the sharp filming, editing, and dry wit that shines in every episode.
(BBC, 4 seasons, each episode 90 minutes).