The Exact Place
by Margie Haack
$14.95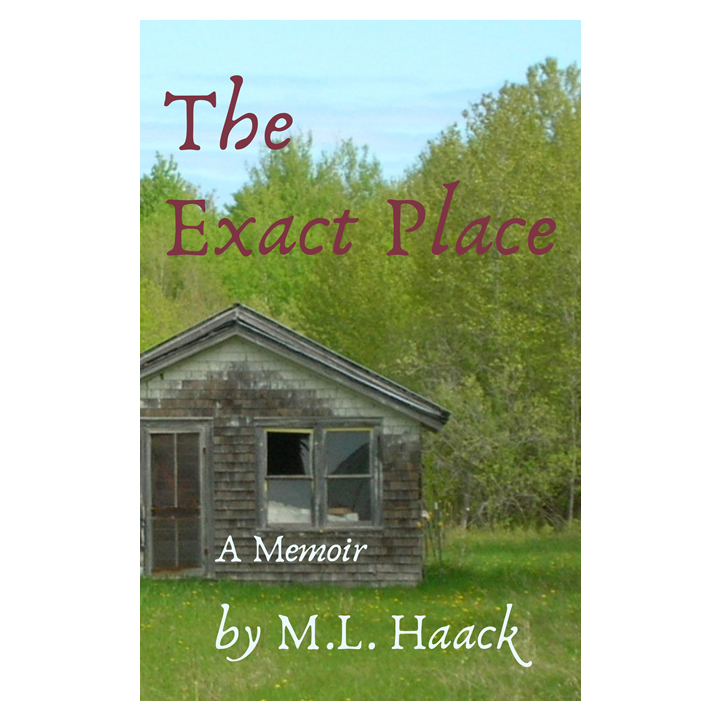 A three-room house in northern Minnesota without indoor plumbing could seem crowded with a mother, stepfather, five siblings, and a dog. Their farm was swampland barely claimed from a wilderness where temperatures of 40 below could freeze a chicken house full of hens. It was the place Margie accidentally killed her favorite dog, was chased by a timber wolf, learned to love work and hate sheep. Her roots were tangled with the death of a father who was killed before her birth, leaving her mother, a widow at seventeen. Margie was determined to win her step-father's love and approval, but failed. In its place a spiritual awakening grew along with a deep-rooted sense of purpose and place. Her book is beautifully written with love, a keen eye for detail and a keener eye for truth. It's serious and funny and emotional and heartbreaking. The Exact Place is drenched in a real life that gently unmasks our own.
Order The Exact Place from
Praise for The Exact Place
"Most of the time when I am reading I feel like an outsider, as if I am merely watching a program on television. With Margie's writing I feel like I am a participant. I'm eating Cream of Wheat; I'm peering through the trap door; I'm pulling in the fish; I'm lying on the cold linoleum; I'm smelling the triple batch of chocolate chip cookies. Which is all lovely and affirming. She weaves life and Faith together so seamlessly that I can see Creation glowing with the light of Heaven. Margie has such a gift of making you feel like you are a part of things … and that is what I hate about Margie's writing. As I am swept up in the glory of he ordinary, and seeing the shimmer of the spiritual – she cuts me with the ragged shards of life in a fallen world. Then I want to be merely watching again. But there is blood on my hands."  – Ned Bustard, Creative Director, Square Halo Books
"There are sentences in this book so wonderfully crafted, breathtaking, and insightful that I had to read them over again and again to let the words soak into my soul. Margie is a storyteller of the highest order." – Andi Ashworth – Author, Real Love for Real Life. Co-Director, The Art House.
"My parents (Greg and MaryJane Grooms) gave copies of your book to each of us for Christmas – I just finished reading it … Thank you for writing it. Many memoirs (mostly by my contemporaries) seem self-involved and navel gazing and I find them icky. But you've told your own story marvelously, like a master novelist who can bring a willing reader to feel empathy for a particular character in spite of and because of her flaws. I only wish you were a novelist so that you could write another one! Your own story gave my husband and I lots to think and talk about. I thoroughly enjoyed it and will be passing it on to my friends."  Fiona Baker Grooms, Phd, Philosopy.
God in the Sink: Essays from Toad Hall
by Margie Haack
$12.95
" 'What is God doing in the sink?' My granddaughter, Ava Lou, was standing on a stool washing dishes with a sink full of cold water and soap suds as only a four-year-old can "wash" dishes. She was looking at bobblehead Jesus who was over-seeing the process.
I wondered how to explain irony to her …"  – from the introduction to God in the Sink.
For 33 years Margie lived with her husband and children in an American Gothic Four-square in Rochester, Minnesota – a house their children christened Toad Hall after the classic Wind in the Willows story. Fairy tales and scripture tell us that it is in the ordinary and everyday where we can be surprised by meaning and significance. If we have eyes to see, then we might catch sight of subtle signs pointing to a deeper reality that transcends the narrow confines of the here and now. In this view lost binoculars occasion hints of the divine, and everything from Sudoku, fresh cotton sheets, piles of trash and garter snakes let loose in the house mysteriously provide glimmers of hope in a broken world.
Margie's eyes, finely tuned by the ancient wisdom of biblical seers, see past the surface of things. Then, with warmth and humor she gifts us with reflections from her years in Toad Hall so we, too, see deeper layers of meaning. And when we learn to see the sacred in the ordinary, our pilgrimage begins to shimmer with hope.
Order God in the Sink: Essays From Toad Hall
Praise for God in the Sink
Feedback tells us that people in all walks of life have been encouraged by Margie's books; think: not just the young mother or the 50-year-old Amazon shopper, but anyone with a longing to know that God walks beside them.
"Margie Haack has long been one of my favorite writers. Her occasional essays (which are sometimes as intimate as confessions, as brazen as a stand-up comedian, as glorious about the spirituality of the ordinary as a modern mystic) have come into our home for years in her wonderful "Notes from Toad Hall."  That the best of these candid, entertaining, excellently-crafted pieces are now collected and offered in this lovely volume is truly a great thing. These will inspire you to see God's hand in the ups and downs of life, invite you to be more honest and self-aware, help you learn to apply Scripture to the mundane moments of a hectic life, and to – believe it or not – find God even in the kitchen sink. Or in the toothpaste tube recaptured from the toilet bowl. Or in one's own crankiness and fear and pain. Get this book, enjoy these writings, and learn from this unusually transparent wife, mother, grandmother, steward of Toad Hall, daughter of grace, plucky follower of Christ – and very, very talented author." – Byron Borger, Owner, Hearts and Minds Books
"Reading Margie Haack is at one and the same time deeply satisfying because we are sure she knows us, and horribly troubling, because she knows us. Like her, we are people trying hard to keep going, aware – as she writes in her book God in the Sink – that the 'rhythm of ordinary life is rarely exciting or sensational for all who wander the wastelands of earth.' Whether we enter into her world in the quiet of our own hearts, or in the company of family and friends, her words are a gift of grace, allowing us to remember to remember what matters most – and to imagine that it is possible to still love what is ours to love, wounded people in a wounded world that we are."  – Steve Garber, Director of The Washington Institute for Faith. Author of Fabric of Faithfulness and Visions of Vocation.
"I've been addicted to Margie Haack's writing since 1997 when she wrote 'Why do I write such drivel to busy people who need to be reading about important things? Well, it is because this is where most of us live the better portion of our lives. Right here in the vast, ordinary, wasteland of our days. It is a place where God is often unacknowledged in a million little disasters and events. It is the place of broken appliances and unexpected inconveniences' which made me understand that this was no mamby-pamby Christian writer. Here was someone who connected the broadness and the depth and the fabulous wackiness of God with that same stuff in life. She's refreshingly nuts, and is in the dirt with us, but she writes better than anyone does about that dirt. – Leslie Van Orsdel, Manager, Key Accounts, Bloombergs, NYC