A Salt Dough Creche Soire
One December, many years ago when I was still into crafting like my redemption depended on it, I decided to make a nativity scene using salt dough. It was more difficult than anticipated – like a lot of things I look at and think: Oh, yeah, I could do that and for a lot less money. Easy, peasy. It took much longer than the one afternoon I designated for being craft-queen. Salt dough is a lot like Play-doh but your creations are made permanent by baking them in the oven. With luck they won't crack and fall apart before you are ready to decorate and seal them. My figures turned out to be fat, chunky little people who looked like they knew nothing about low-fat diets. All have withstood the ravages of time except for Mary's mantle which cracked and fell off a couple years ago. I whacked together a few pieces of wood to serve as a rough stable and over time have added new pieces – most made during moments of unusual energetic insanity.
A Flock of Curious Sheep
One year we made flocks of sheep. Anita, Marsena and I went nuts fashioning them with laundry pegs and real sheep wool. We ended up with more than a dozen in each herd. All with personalities from macho boy rams to debutante ewes.
A Gnome Village
Six years later we were together again this past Thanksgiving and we made gnomes. Gnomes riding reindeer, taking saunas, practicing wizardry, downhill skiing. Or just standing there staring as if whatchu lookin' at, buddy? They make us laugh and laugh.
The Comfort of Advent Despite Life's Sorrows
Year after year these reminders come out of their boxes and decorate our home for a little while. Today as we wait in the darkening afternoon it is beginning to snow. Inside, the fireplace is burning and our tree is lit. Candles are glowing in the windows. Supper just got planned – and Denis met it with cheers. Creamy chicken sauce with egg noodles.
It sounds wonderful, doesn't it? And it is. Advent has begun and we are waiting for the Day. The Day Jesus becomes "God With Us." I find ridiculous pleasure in the rituals that have grown up in our life together that celebrate this time of year.
But listen – you mustn't think because I describe an idyllic scene it means we live in a Thomas Kincaid universe. No. Not true. Life is full of difficulty and trials. For starters, even today we wonder how long for Denis' mother. She fell again last night for the fourth time in recent days. I've been waiting a several months in anticipation of a doctor's appointment that may help a chronic cough which drives me (and all but the most patient) crazy. Some family news saddens us. And on the scale of annoying my spleen nearly to death, I've lately tried at least three new recipes and had to feed most of them to the hens. (True, They are very happy to help in this.) One was a wild rice mushroom casserole that turned into an ugly mass of globby gray gluten. And I thought it sounded so good. I'm just saying.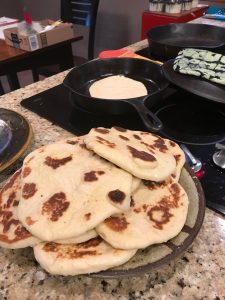 Around here we wait for another Day, too. The day of Restoration when all that has gone wrong in the world and our lives is restored to what God always intended it to be. Thanks to him it Will come even though I often get distracted by CNN and worry as I wait. Sometimes the beauty of glowing candles, the fireplace and the tree with bubble lights are enough to comfort and remind me that we live in the Kingdom of Now-But-Not-Yet.