Ned Bustard of Square Halo Books released a new book I was privileged to see in manuscript form earlier this year. Revealed: A Storybook Bible for Grownups is filled with linocuts, etchings and mono prints all in black and white. The printmakers art form is not one I'm familiar with nor have I cared much about it but as I read the pages and studied the illustrations I was won over by the form, and the beauty of artwork I had over-looked. The book explores the many stories of the Bible that make "nice" people uncomfortable. Murder, rape, sex, war, mayhem of all sorts. If I was God I probably wouldn't have included them. But the older I get the more I "get" them and am thankful they are part of the canon of Scripture. What a sentimental weak Christianity if Scripture only included the pretty and the palatable! I much prefer the inclusion of real life as we know it – both the beauty and the ugliness which can, at times, seem unbearable.
The work of Steve Prince is represented on several pages. His linocuts move me deeply – I think it is the pain and suffering that appears on the faces of his subjects. And yet their bodies tell a story of quiet, committed love with a subtle note of tenderness and joy. So today I'm posting the art and the explanation that accompanies I Corinthians 6 where Paul references sexual love in marriage.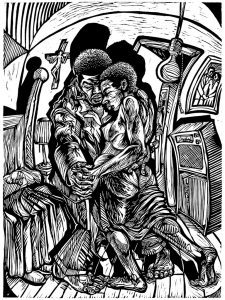 "A married couple are dancing in their bedroom to a love song that is playing on their old stereo phonograph. In the next room a television is blaring, but separating them from the noise of the world is a wall bearing a symbol of their covenant vows and a symbol of faith that covers their marriage. A sliver of the ceiling shows two intersecting barrel vaults forming a 'groin vault.' The groin vault in this print symbolizes the pelvis regions of the couple's bodies: the two complimentary vaults stabilize the building as the two complimentary pelvises stabilize the marriage. The wife is wearing a translucent negligee for their time of coming together. A runaway slave motif can be seen on the husband's pajamas, symbolically alluding to the fact that – in spite of the great pain and separation African Americans have endured from generation to generation – this two have found love."
Perhaps this has been more meaningful recently because we look forward to a wedding in the family and our own 48th anniversary – a reminder of covenant vows pronounced to one another long ago.
P.S. Note to my readers: Whenever I'm gone from here for any length of time, I fumble for ways to explain my absence as if I failed to turn in my homework or had disappointed someone whose life depended on me. Hogwash. Although I know I lose readership, no one except myself expects regularity or even misses the posts. So here I am, back AGAIN, and very thankful that you've stopped by. But I can't make promises about how long before the next one.