One way to think about art is to understand it as an attempt to use human creativity to help us see life and reality with greater clarity. Which is why setting aside time for unhurried visits to art museums and galleries is so essential to growth towards maturity. All the elements that come together in the visual arts—color, form, line, shape, depth, composition, light—are reflections on aspects of creation that somehow reflect the goodness of the Creator who called them into being as good gifts for his creatures. Just as God is the final source of Truth so is he the ultimate spring of Glory, and believing one is more essential than the other is to place our preferences over his revelation of himself. God's revelation of truth is glorious, and his glory is true, world without end.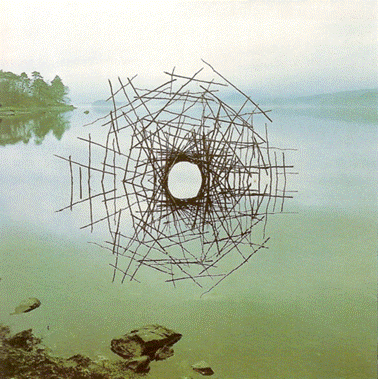 Just as some aspects of truth are difficult to capture with words and arguments, some aspects of life and reality are so difficult to capture in art as to seem impossible: the flow of time, air, water; things that are real yet transient and ephemeral; living shapes in inanimate materials. Enter Andy Goldsworthy, an artist who lives in Scotland and whose work is lovingly embedded in nature even when it appears in urban settings.
It is never easy to describe art in words. "Writing about art," comedian, actor and painter Martin Mull noted, "is like dancing about architecture." You can do it, and it can even be full of insight but the best plan is to simply receive the art itself. And if it difficult to write about art in general, the problem is compounded when talking about Goldsworthy's art because often he is interested in capturing something that is
available only momentarily before change or decay or the relentless forces of nature work introduce their own effects. Other of his works are made of stone and clay, solid materials that he shapes into surprisingly animated shapes so that we see both the materials and their context in an entirely new way. If nothing else Andy Goldsworthy gives new meaning to the notion of natural.
One good way to approach Goldsworthy's work is in Rivers and Tides, a documentary film that simply follows the artist so we can watch him create and listen to him reflect on what he is doing. It also allows us a lovely glimpse into the creative process, at least as Goldsworthy experiences it, that is both accessible to non-visual artists as well as a fine study, for Christian viewers, of what it means to demonstrate one essential aspect of being made in the image of God.
Goldsworthy makes his living by commissions, teaching, and by photographing his most ephemeral works to allow us to see them when they are too remote and too temporary for viewers to experience. The fact that he uses such simple, ordinary materials to produce such stunning pieces of art, and that his appreciation for nature is so unpretentious and tender is enough to render me speechless and grateful.
I recommend Rivers and Tides to you
Rivers and Tides: Andy Goldsworthy Working with Time, directed by Thomas Riedelsheimer (2001, 90 minutes). Available on DVD and on YouTube.