Some books are published not because there is any chance they will become best sellers but because they need to be published. What they say is too important to be ignored. The same is true of some films. I doubt anyone involved in the making of The Founder imagined they were making a blockbuster. But I certainly am glad they persevered and made it anyway. It tells a story that's too important to miss.
Don't misunderstand—The Founder is a good film. It stars Michael Keaton, and he is the primary reason it's a good film. He doesn't portray a superhero, or a detective that solves a case, but a salesman, a businessman who builds a fast food store into a worldwide empire. There are no killings here, unless you count the dreams that are brutally obliterated, and no explosions, unless you count the relationships that are callously destroyed in a raw pursuit of unbridled greed. Michael Keaton seems to be in every scene, and he is a delight to watch, an actor at the top of his game. "His kinetic performance doesn't enhance the movie," Manohla Dargis says in the New York Times (January 19, 2017), "it is the movie."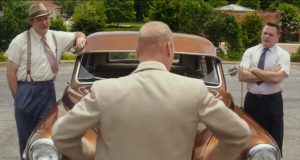 The Founder tells the story of Dick and Mac McDonald (played by Nick Offerman and John Carroll Lynch) who with hard work and creativity launch a fast food restaurant in California that becomes wildly successful. They care about quality in both service and food, and are content to make a modest living with their store. Then, into their lives comes Ray Kroc (played by Michael Keaton), a frustrated salesman who is so ambitious that he allows nothing and no one to stand in his way. "You know what," Kroc says to the McDonald brothers after he has taken all they have dreamed of and worked for, "contracts are like hearts, they are made to be broken." By the end of the film the McDonald's have nothing.
Relationships in business were created to be nourished in love and to flourish in a context of justice. Each person, a bearer of God's image was made to be treated with dignity and care for God's glory, even at cost. But in a fallen world this sometimes is perverted and broken by those who place success over virtue, and money over people. In The Founder we watch with horrified fascination as the business relationships—and marriages—in the founding of the McDonalds' empire are twisted beyond recognition.
There are those who believe that the market should be kept free of any regulation by the state. They believe the market always solves its own problems, achieves the best outcomes, and frees people to succeed if it is left alone. It is always surprising to me when Christians buy into this ideological nonsense, because as believers they should believe in the fall. The biblical doctrine of the fall teaches us that the world is broken, that people are sinners, and that the world of business is no more immune from evil than any other sphere of human endeavor.
The Founder tells a cautionary tale. It is a tale we need to remember because it touches all of us, whether we eat at McDonalds or not. And watch it for the delight in seeing Michael Keaton bring a story of business, risk-taking and a soul-searing quest for success alive on the screen.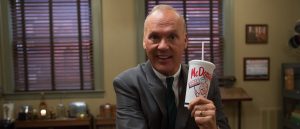 Source: NY Times online (https://www.nytimes.com/2017/01/19/movies/the-founder-review-michael-keaton-mcdonalds.html?referrer=google_kp)