Americanah, Half a Yellow Sun, Purple Hibiscus (Chimamanda Ngozi Adichie)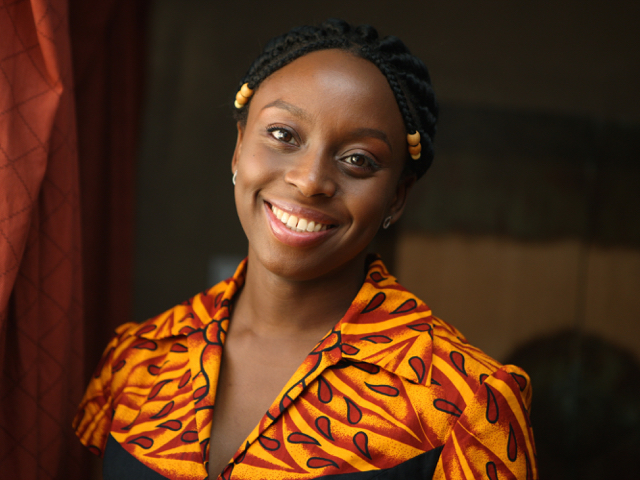 When Nigeria is Home
I was handed a book, told I should read it, did, and now want to recommend it to you. Our friend, Anita Gorder, had stopped by a wonderful independent bookshop in St. Paul, Common Good Books (www.commongoodbooks.com)—Garrison Keillor, proprietor—asked the staff for a recommendation and was pointed to Americanah by Chimamanda Ngozi Adichie. She read it and said I should, too. I'm glad you did.
Adichie, born in Nigeria in 1977, studied medicine, communications and political science, earning masters degrees in creative writing (John Hopkins) and African studies (Yale). Her books and short stories have won multiple awards, and she divides her time between Nigeria and the US. Her prose is deceptively simple, marked by keen observation, clear description and lively dialogue, full of insight into the human condition, and evocative enough to transport the reader's imagination into places and hearts that exist a world away.
Americanah (2013) is the story of Ifemelu, a Nigerian student in America who eventually returns to Nigeria. It is the first novel I have read that offers me entrance into the experience of an African immigrant in the US, allowing me to see my own culture in fresh, though not always pleasant, ways. Because it is the "home of the free," many, if not most, Americans assume that any legal immigrant from Africa, or anywhere else for that matter, will find life in the US not merely an attractive improvement over their native setting, but one that can be navigated with ease. Adichie punctures these myths by allowing us to walk in Ifemelu's shoes and so see the immigrant experience with sharper clarity. It is a perspective that we Americans need to gain.
Americanah is not anti-American, even when Americans or American policy are difficult to defend. It is an affectionate and honest telling of life from the perspective of an immigrant who wants to feel at home in a strange and alien land whose people, black and white, at times seem determined to keep her marginalized, and whose customs and manners at times seem incomprehensible. Nor is it anti-African, depicting a continent hopelessly snared in corruption and violence, but revealing, instead, a richly determined place brimming with people yearning to find a way to flourish in a rapidly changing modern world and whose convictions and desires often cause them to push for very different ends. Nigerians and Americans both are shown to be glorious ruins, hoping against hope that in the end they might find an identity that demonstrates their existence has significance and dignity. And throughout, the need for love and community, and the deep yearning for a relationship that satisfies and truly lasts defines every character, for blessing and for curse.
Impressed by Americanah, I tracked down two more of Adichie's novels. Half of a Yellow Sun (2006) is set in the heart of the civil war (1967-1970) that erupted when southeastern Nigeria seceded to become Biafra. It was a brutal time, when an estimated million civilians died in the chaos, fighting, pitiless violence, and famine that ravaged the countryside after Nigeria sealed the border to the seceding territory.
Adichie's story takes us into the home of a university professor, Odenigbo, who supports the effort to form a new state. Odenigbo, his attractive mistress, Olanna and her sister, Kainene, are Igbo, a highly Christianized people group with a long list of grievances against the largely Muslim north. Odenigbo's young servant, Ugwu, is from an isolated country village, providing a rural perspective of the unrest and suffering. And Kainene's lover, a Brit who came to Africa with dreams of becoming a great writer but fails miserably rounds out the cast of characters. They each are swept along by events far greater than they can control, and are thrown into a cauldron of early hope, growing disappointment, and finally grief, loss and suffering. Though the novel is set in a particular setting of civil war, the deeper issues that animate Adichie's story of the desire for liberty are universally human.
And Purple Hibiscus (2003) is a story set in two related Nigerian families. Teenaged siblings, Jaja and his younger sister Kambili are from a wealthy family and have the best of everything, but their father is a legalistic, abusive and controlling Christian. When the father's sister, Aunty Ifeoma, invites Kambili and Jaja to come stay with her, they suddenly taste life that is free, unafraid of animism and full of laughter though much poorer. The experience forever changes them—their values, dreams and beliefs—and sets them on a path of conflict and eventual tragedy when the siblings return home.
Three things stand out to me about these novels by Adichie.
First, as I already mentioned, Adichie is a fine author, a good storyteller, and someone who grasps the significance of how good stories tell the truth about what it means to be a human being in a broken world. The characters in her novels live in a world very different than I do yet I identified with them, and had no difficulty seeing things through their eyes. One advantage of living in an era of advanced modernity is that voices that might have remained far away a few years ago are now easily available in our globalized world. One such voice is that of Adichie, and for that I am very grateful.
Second, I am impressed how reading Adichie's novels broadens my perspective on the world. As I read these stories I was struck once again (sigh!) by how my view of things tends to be very American-centered. I suppose that's not totally surprising: I am an American living in America. On the other hand, America is not the center of universe, American perspectives are not the final word on life and reality, and American culture is not a manifestation of God's kingdom. Being able to guard against being provincial in my perspective of things is important, especially in a pluralistic world. Adichie's novels help to that end, and for that too I am grateful.
Third, all three novels show how the Western secularized view of life has permeated Nigerian culture, or at least permeated Adichie's take on it. In Americanah and Half of a Yellow Sun, for example, there is almost no significant inclusion of religion in the story, by which I mean in a way that shapes the characters, their societal setting, or the plot in a deeply meaningful way. And though religion is central to the story of Purple Hibiscus, it is the now familiar story of Christianity breeding oppressive fundamentalists. This stands in sharp contrast to reports indicating that Nigeria tends to be a very religious place, that Muslims make up a significant part of the population and that the Christian church is growing rapidly there. Adichie mentions religion and describes belief and superstition as existing, but political and economic ideologies are far more central to her stories. As I read I couldn't shake the feeling that the novels seemed slightly tone deaf, rather like Western novels that blithely assume that those with intellectual prowess and advanced education can essentially ignore religious belief and committed believers. In fact, faith permeates human existence, even in secularized circles. Even with that caveat, I recommend Adichie's novels, especially Americanah.
Source
Americanah (New York, NY: Anchor Books; 2013) 588 pages.
Half of a Yellow Sun (New York, NY: Anchor Books; 2006) 541 pages.
Purple Hibiscus (Chapel Hill, NC: Algonquin Books; 2003) 307 pages