Tom Waits, Bad as Me (2011)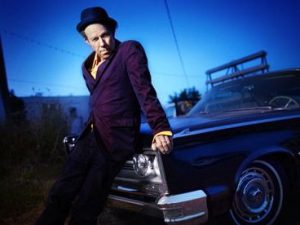 You're the same kind of bad as me
I was listening to Tom Waits' latest CD, Bad as Me (2011) recently, and suddenly a long forgotten memory floated into my consciousness. I was in a coffeehouse, I would guess the year was 1977, and was concentrating on something, ordering or reading I don't remember, but I do remember suddenly becoming aware of the music in the background. A growling voice that for a moment I took to be Bob Dylan, but as quickly realized was someone else. Whoever it was had taken the traditional Australian folk ballad, "Waltzing Matilda," and rewritten the lyrics so that they reflected the reality not of a man hiking across the empty bush of the outback of Australia but a man struggling to make his way lost on the streets of an urban jungle in America.
Wasted and wounded, it ain't what the moon did
I got what I paid for now
see ya tomorrow hey Frank can I borrow
a couple of bucks from you, to go
Waltzing Matilda, waltzing Matilda, you'll go
waltzing Matilda with me.
["Tom Traubert's Blues" on Small Change (1976)]
The song was compelling, the orchestral accompaniment perfect, the voice able to capture a heart's cry that felt caught in a broken world, drained of hope, yet yearning for a way out. I had trouble remembering when I had heard a song so sad.
Some of that yearning appears as ironic wit for this musician, a sense of humor that brings into focus the seedy shape of the bars and cheap dives lining the street.
The piano has been drinking
my neck tie is asleep
and the combo went back to New York
the jukebox has to take a leak
and the carpet needs a haircut
and the spotlight looks like a prison break…
and the piano has been drinking…
and the piano-tuner's got a hearing aid…
and the owner is a mental midget
with the I.Q of a fence post
["The Piano has been Drinking" from Small Change (1976)]
But then the mood of the music changed once again, and this time the attention was inwards, to the poisonous blind alley that is alcoholism.
Well I got a bad liver and broken heart
yea I drunk me a river since you tore me apart
and I don't have a drinking problem
cept when I can't get a drink
and I wish you'd a known her
we were quite a pair
she was sharp as a razor
and soft as a prayer
so welcome to the continuing saga
she was my better half
and I was just a dog
["Bad Liver and a Broken Heart" on Small Change (1976)]
By then I had asked the barista who the musician was. Tom Waits on Small Change I was told. Ever since I've looked forward to each new CD that Tom Waits has released.
Over the decades Waits has carefully shaped a musical persona for himself. "If there has been," Tim Adams writes in The Guardian, "a constant theme of his career—which has taken in two Grammy awards, scene-stealing acting roles for the likes of Robert Altman and Terry Gilliam, an Oscar nomination and a unique gift for performance that made his rare live shows just about the hottest ticket in any town—it is the constant sense of imminent dereliction. His first album, Closing Time, made when he was 24, already saw him adopting the broken-down voice of a survivor of all that life and love might throw at him. The hats he has taken on and off since as a performer, late-night barfly, all American hobo, fairground huckster, have all suggested several lifetimes of hard-won experience." Waits' voice is perfectly in tune with his career. His growl, with a raw almost desperate sound, has a quality that seems to effortlessly embody brokenness within the masterful creativity of a serious artist. Still, it is not all artistic imagination: Waits' early years included abandonment by his father, excess and hard drinking, and living out of a suitcase in cheap flop houses. All that changed when he met his wife in 1980 on the set of a movie they were both working on. Since then they have carved out privacy for themselves, raised a family, and nurtured their art together.
Waits' latest CD, Bad as Me (2011), the songs written and produced by Waits and his wife, Kathleen Brennan, is one of his best. Inventive, collaborating with some of the best names in popular music (including David Hildalgo of Los Lobos, Flea of Red Hot Chili Peppers, and Keith Richards of the Rolling Stones), the songs give voice to the reality of brokenness that regardless of what religious and philosophical beliefs we hold, we all know we share.
You're the head on the spear
you're the nail on the cross
you're the fly in my beer
you're the key that got lost
you're the letter from jesus on the bathroom wall…
i'm the mattress in the back
i'm the old gunnysack
i'm the one with the gun
most likely to run
i'm the car in the weeds
if you cut me I'll bleed
you're the same kind of bad as me
["Bad as Me" on Bad as Me (2011)]
"Braying and crooning in Salvation Army finery like a visitor from our last Depression," says Will Hermes in Rolling Stone, "Bad as Me riffs on money, jobs and bosses; also love, war and unending struggle as the norm. It's no big departure for a 61-year-old singer-songwriter who has been representing as a skid-row bard since his twenties. But it plays to the moment as Waits refines his prickly brand of time travel. It might also be his most broadly emotional set ever."
The 13 tracks on Bad as Me, with three more on the Deluxe edition that I recommend, do not ramble but get right to the point. Many sound like a ballad but contain merely hints of a story that the listener needs to piece together. And as usual Waits' begins with ordinary things, the stuff of everyday life that we seldom imagine would be the ideal topic for a song. "I'm the last leaf on the tree / the autumn took the rest / but they won't take me." There are laments of a musician leaving to go on tour and unable to stop, songs full of questions, and songs marking the deep sadness when love has slowly died. "i wanna drown / like a fly in the honey / because she stole the blush / from the rose." Waits is an intelligent observer, a man deeply enough rooted to recognize that context can transform the ordinary into something extraordinary. "I'm always looking for sounds that are pleasing at the time," Waits told Sasha Frere-Jones in The New Yorker. "The sound of a helicopter is really annoying until you're drowning, and it's there to rescue you. Then it sounds like music." (By the way, an added benefit in the Deluxe edition, besides the three bonus tracks, is a booklet filled with Tom Waits' photography—as creative and personal as his music.)
Tom Waits has never allowed his calling to entertain audiences with his music to interfere with a stubborn insistence that his music call us to reflect on the fact that life is lived out in the shadow of death.
Like a tin can feeding
like a skinned hand bleeding
like a tramp choir crying
like a camp fire dying…
like a string that´s broken
like a thing that´s smoking
like a blue flame burning…
like more cold coffee
like a poor old softie…
like a child that´s fainting
like a wild ass painting
what is it like?
what is it like after we die?
["After You Die" on Bad as Me (2011)]
The lyrics are compelling because Waits compresses the ultimate question we must face into questions that take their shape from observations so ordinary as to seem irrelevant. Little moments of loss and disappointment become metaphors for the greatest loss of all.
Of all the songs on Bad as Me, the third track "Talking at the Same Time" was one I had to listen to several times the first time I played the CD. Waits sets aside his trademark gravelly sound for a poignant tenor and the rich accompaniment—guitars, horns, keyboards—brings the headlines into focus not by adopting a political perspective but by helping us hear the cacophony that passes for political discourse.
…all the news is bad
is there any other kind?
everybody's talking at the same time
well it's hard times for some
for others it's sweet
someone makes money when
there's blood in the street
don't take any lip
stay in line
everybody's talking at the same time
well the dog is in the kitchen
and the war drags on
the trees wait by the freeway
all the money is gone
well she told me she would leave me
i ignored all the signs
and now everybody's talking at the same time
everybody's talking at the same time
["Talking at the Same Time" on Bad as Me (2011)]
At a time when mention of such things usually evokes anger Waits presents us with a quiet song of sorrow. The song is all the more subversive as a result.
Tom Waits composes and performs his music from the perspective of the back alley, the people that inhabit the edges of urban spaces and that can be easily forgotten because they have neither power nor voice in the public square. It is not often pretty in those corners of society but the image of God shines brightly in the search for love and lasting relationships even in the face of repeated disappointment. Waits seems to understand that, and grants dignity to those who voice would not be heard, except in his.
Source
Adams in The Guardian (October 22, 2011) online (http://www.guardian.co.uk/music/2011/oct/23/tom-waits-interview-bad-as-me)
Hermes in Rolling Stone (October 25, 2011) online (http://www.rollingstone.com/music/albumreviews/bad-as-me-20111025)
Waits in The New Yorker (October 31, 2011) online (http://www.newyorker.com/arts/critics/musical/2011/10/31/111031crmu_music_frerejones?currentPage=all).
CD recommended: Bad as Me (Deluxe Edition) by Tom Waits (2011).