The Wailin' Jennys, Firecracker (2006)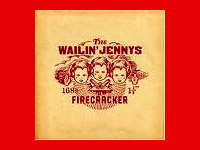 This trio hails from Canada, and features female vocalists and instrumentalists who are fine musicians as individuals, and extraordinary as bands. Their tight vocal melodies, accomplished performances, and arrangements displaying their skill on a variety of acoustic instruments provides a sound both beautiful and full of yearning. Neither group limits itself to a traditional repertoire, yet consistently write/cover songs that perhaps can best be described as Americana, a blend of influences which include traditional folk, old-time country, and gospel.

When I'm in my restin' place
I'll look on my mother's face
Never more will I have to know
All the loneliness that plagues me so
Hallelujah, hallelujah
["Glory Bound" on Firecracker (2006)]
The Wailin' Jennys make music that is so hauntingly beautiful it makes my heart ache. That is a grace I cherish.