The Porter's Gate Work Songs (2017)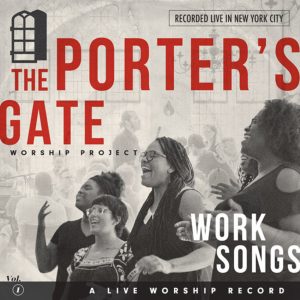 We Labor Unto Glory
Add up the hours spent on our job (whatever it is) and the myriad tasks (whatever they are) that must be done after we leave the workplace (wherever it is) and we have the single largest slice of our waking hours. Chances are it is also the single largest slice of our energy and concentration, and will be for the vast majority of our time between birth and death. Work is central to our existence and to our humanity.
Here's something else that is true and worth remembering: our work either has meaning or it does not. Which is why the meaning of work has been discussed, defined and debated endlessly across cultures, religions, philosophies and worldviews across all of history. And the debate has probably arisen (or raged) within each of us as well.
It is here that Christian faith provides rich answers without ignoring the disappointments and complications that encrust our work and turn it into toil. It is an aspect of biblical teaching that should be celebrated in sacred song, and now is celebrated, beautifully and thoughtfully, in The Porter's Gate: Work Songs.
Carpenter, you frame a house for those who need protection
Laborer, you lift a heavy burden for the weak
Leaders, build a city that all children may rejoice in
May God's kingdom come
On earth, His will be done
Lord, be close to us
Lord, have mercy on us
Lord, please put Your hand on us
Day by day [from "Day by Day"]
The Porter's Gate is "a sacred arts collective created to identify with and fulfill the most impactful role of the Christian Church: to be its porter, one who looks beyond church doors for guests to welcome. The Porter's Gate seeks to build an ecumenical community that invites conversation and collaboration in an exploration of faith." (https://www.portersgateworship.com)
C. S. Lewis famously complained in God in the Dock that when he first came to faith he found church music to be "fifth-rate poems set to sixth-rate music." The music in this CD, in sharp contrast, embodies keen biblical theology expressed in lively lyrics set to lovely music that fits the wonder of its expression.
Christ has no body now but yours
No hands, no feet on earth but yours
Yours are the eyes with which He sees
Yours are the feet with which He walks
Yours are the hands with which He blesses all the world
Yours are the hands
[from "Christ has no Body Now but Yours"]
The Porter's Gate: Work Songs celebrates the biblical insight that our vocations are never incidental to faith but essential. The work of our hands and feet and imaginations, regardless of what we do in our callings, is kingdom work done to God's glory.
The creative artist behind The Porter's Gate project is Isaac Wardell, director of worship arts at Trinity Presbyterian in Charlottesville, Virginia. For Work Songs he brought together an impressive list of musicians including Audrey Assad, Aaron Keys, Joy Ike, Josh Garrels, and David Gungor. "This collection is not happy clappy music," Robert Berman says. "This is profound reflection on the lives to which Christ calls us, as well as being art music well worth supporting on its musical merits." (www.worshipmusician.com)
Oh, the deeds forgotten; oh, the works unseen
Every drink of water flowing graciously
Every tender mercy, You're making glorious
This You have asked us
Do little things with great love
Little things with great love
[from "Little Things with Great Love"]
Work Songs assumes that our ordinary work is never useless, never unnoticed by the One who is Redeemer, Lord and Judge. We do not need to make our daily work extraordinary but to pursue our days with faithfulness. This is where we have been called, where love can be made real in a broken world, where we find ourselves laboring in God's kingdom, in hope that his kingdom will soon be completed. Our work matters not because we think it does but because God declares it so. This truth can be hard to hold onto in a broken world. Work Songs can help us hold onto it by setting our hearts to singing.
Source
CD recommended: The Porter's Gate: Work Songs (2017)