The Oh Hellos, Through the Deep, Dark Valley (2012)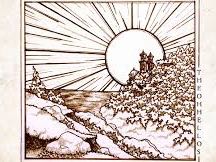 Music of the kingdom
About a month ago I received an email from an acquaintance asking if I was aware of the group, The Oh Hellos. Being alerted like this to some band is not all that uncommon—obviously people like to share the fine things they discover, and people know I love good music. I wasn't: aware of The Oh Hellos that is. That too is not uncommon since there are so much music out there, and I love books and film and food and several other things far too much to just concentrate on music. In any case, usually that's the end of it, my awareness heightened, the band having been pushed up a few notches on the list-of-bands-I-should-really-listen-to-someday that floats in the back of my consciousness. Not, however, in this case. He emailed me again. The third time (!) I heard from him about The Oh Hellos, I was annoyed enough to purchase their album, Through the Deep, Dark Valley. And the first time I hit play I realized this was a band too good to be missed. (Thank you, Tyler Dirks.)
I bought the album just before leaving for ten days at a cabin on a lake in the woods of northern Wisconsin. Blessedly cut off from the internet, I decided to simply listen to Through the Deep, Dark Valley and write this review without doing any research on them. I know The Oh Hellos are a Texas independent band made up of siblings, Maggie and Tyler Heath who often include a dozen or more musicians to accompany them.
And I know this, now that I've listened to the album: Through the Deep, Dark Valley is music of the kingdom.
This is not sacred music as that expression is used in marketing today, yet the songs don't just touch on sacred things but unpack them, revel in them, and bring them home. The problem we face in our brokenness is not merely that we have occasionally messed up but that something was wrong at birth, and now our only hope is if help can come from another.
we were born in the valley of the dead and the wicked
that our father's father found
and where we laid him down
we were born in the shadow of the crimes of our fathers
blood was our inheritance
no, we did not ask for this
will you lead me?
[from "The Valley"]
Quiet, creative illusions to C. S. Lewis ("The Lament of Eustace Scrubb") and scripture are woven throughout without ever allowing the songs to become "religious."
I took my chance and bit down deep
the weight of the world was crippling
now I'll hide my shame with woven leaves
I was wrong
and I'm so, so sorry
I knew you'd never forgive me
but I was wrong
and I'm so, so sorry
[From "I was Wrong"]
Metaphors drawn from parables and teachings, in lyrics that invite reflection by an unbelieving world because they transcend mere doctrines to call forth humankind's deepest yearnings when we face the fragmentation we cannot heal. There is simplicity here, songs that tell stories so well known we wonder how the songwriter could know us so well. The melodies, harmonies, and accompaniment fit the stories and voices nicely, and I get the sense that Maggie and Tyler are more concerned we hear what they are singing than we are awed by the performance.
Through the Deep, Dark Valley is a beautiful album, the sort of music I'm happy to point to and say for all to hear: This I believe.
Source
Music recommended: Through the Deep, Dark Valley by The Oh Hellos (2012)