The Great Experiment: Faith and Freedom in America (Os Guiness, 2001)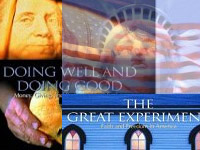 More than once in these pages we have recommended this series of study guides, and we remain convinced that though the marketplace is awash with guides, the Trinity Series is really in a category all its own. Creative and stimulating, these curricula are designed "to help thoughtful people examine the foundational issues through which faith acts upon the public good of modern society." The series also models how believers can promote serious reflection without being sectarian. Even if you don't use them in a discussion group—which would be a shame—they will help you reflect deeply on ideas that matter to Christians and non-Christians alike. Drawing together readings from a wide variety of sources and thinkers, each book is a rich resource for busy people who desire to think clearly, live faithfully, and somehow, by God's grace, make a difference.
Source
Doing Well and Doing Good: Money, Giving, and Caring in a Free Society (2001) 283 pp. + 39 page discussion guide.
The Great Experiment: Faith and Freedom in America (2001) 270 pp. + 31 page discussion guide. Both by Os Guinness (Colorado Springs, CO: NavPress).