The Collects of Thomas Cranmer (Barbee/Zahl, 1999); The Valley of Vision: A Collection of Puritan Prayers and Devotions (Bennett, 1975); Prayers Written at Vailima (Robert Louis Stevenson, )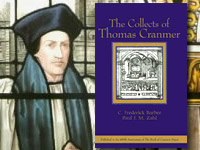 I was raised in a branch of evangelical Christianity that viewed written prayers with great suspicion. Smacked of Rome, for one thing. Why would a true believer need something written down before they could speak to their heavenly Father, for goodness sake? Prayer, we were taught, should not be read from a page, but should spring spontaneously out of the believer's heart and mind. Written prayers quickly become empty rituals, words repeated unthinkingly by disengaged worshipers. Better silence than that.
The first chink in that teaching appeared for me when as a child I discovered that most of the prayers offered in our church were actually a lot less spontaneous than we had been led to believe. Listen with care and you could usually identify a stock set of phrases and ideas that were recycled each time that individual led in prayer. And though we had to be careful not to get caught, some friends and I eventually made a game of surreptitiously mouthing phrases that we knew would be heard next. It wasn't difficult achieving a high degree of accuracy; it was very difficult, however, to keep from giggling.
It is true, of course, that written prayers can degenerate into empty rituals, becoming little more than meaningless words repeated unthinkingly by disengaged worshipers. But so can anything that's repeated—like Communion—but the solution isn't to throw them out, but to guard against their degeneration. Besides, spontaneity is no guarantee of right worship, since it too can become lifeless. And then there is the book of psalms. And the discovery that a written prayer—precisely because it was composed rather than generated spontaneously—can turn out to better express both a proper biblical balance and the highly nuanced, so-very-hard-to-put-into-words subtleties of our heart's cry.
In the end, of course, surely it's not either/or but both/and. Our hearts should be filled, by God's grace, with worship, gratitude, and petition which overflows in spontaneous prayer. And we can use carefully crafted prayers which have stood the test of time, rich in poetic beauty and biblical balance, to express the deepest yearnings of our hearts. And so, to that end, I call your attention to three books of prayers.
The Valley of Vision: A Collection of Puritan Prayers and Devotions
One of the myths commonly held about the Puritans is that they were so concerned about theological minutia that they had little interest in spirituality and displayed little spiritual warmth in their preaching and writing. If anything should be able to dispel that myth, The Valley of Vision should do the trick. This marvelous volume brings together 223 prayers from the works of fourteen Puritan leaders including John Bunyan, David Brainerd, Isaac Watts, and Charles Haddon Spurgeon. These prayers do not merely express great spiritual warmth, they burn with a deep passion for God, for his Word, and for salvation in Christ. Few books have so encouraged me in my faith, and none have been of greater help during dark times of the soul, when words seem to fail at the very moment when the need to pray is greatest. The prayers are arranged topically and Bennett has provided a brief title for each, making the book even more useful for private devotions or corporate worship. The only criticism I have is that I wish he had identified the author of each prayer, but that is a very small criticism of a truly splendid book.
Actually, my greatest difficulty in writing this review has been to choose one prayer to include here to give you a hint of what is in store in its pages. So many have become so precious to me that I wish I could simply send you the book—or better yet, pray through it with you over time. So I chose "Sleep," written to be prayed in the evening before sleep, primarily because it is a meditation that is, I think, far removed from the way modern Christians tend to think.
Sleep
Blessed Creator,
Thou has promised thy beloved sleep;
Give me restoring rest needful for tomorrow's toil.
If dreams be mine, let them not be tinged with evil.
Let thy Spirit make my time of repose a blessed temple of his holy presence.
May my frequent lying down make me familiar with death, the bed I approach remind my of the grave, the eyes I now close picture to me their final closing.
Keep me always ready, waiting for admittance to they presence.
Weaken my attachment to earthly things.
May I hold life loosely in my hand, knowing that I receive it on condition of its surrender.
As pain and suffering betoken transitory health, may I not shrink from a death that introduces me the freshness of eternal youth. I retire this night in full assurance of one day's awakening with thee.
All glory for this blessed hope, for the gospel of grace, for thine unspeakable gift of Jesus, for the fellowship of the Trinity.
Withhold not thy mercies in the night season; thy hand never wearies, thy power needs no repose, thine eye never sleeps.
Help me when I helpless lie, when my conscience accuses me of sin, when my mind is harassed by foreboding thoughts, when my eyes are held awake by personal anxieties.
Show thyself to me as the God of all grace, love and power; thou hast a balm for every wound, a solace for all anguish, a remedy for every pain, a peace for all disquietude.
Permit me to commit myself to thee awake or sleep.
Amen.
The prayers collected here are biblically sound, theologically informed, thoughtful, and deeply passionate. Using them will deepen your prayer life and bring you into contact with believers who had learned to pray, often in the midst of suffering, with the mind of Christ.
The Collects of Thomas Cranmer
If it was necessary to dispel a myth in calling attention to The Valley of Vision, it is probably prudent to begin this review with a few facts. A few facts, that is, on Collects and on Thomas Cranmer, since it is probably safe to assume that relatively few readers of this newsletter are well-versed in the history of Anglicanism. (Barbee and Zahl, it is worth noting, begin The Collects of Thomas Cranmer with helpful introductions to both—which is where I gleaned most of the information in the next paragraph.)
First, a few words about collects. It is pronounced with the accent on the first syllable, instead of on the second syllable as we are used to saying when we tell someone to "go collect the eggs in this basket." A Collect is a short prayer, usually but not always consisting of five parts: the address, the acknowledgment, the petition, the aspiration, and the pleading. (In some collects one of the parts is missing. You should be able to identify all five parts in the example below.) The name is from the Latin collecta, which refers both to "gathering the people together," as well as to "gathering up their petitions" into a single corporate prayer. So, though collects are brief prayers, the Collects written by Thomas Cranmer are so thoughtfully composed that when prayed they open up rich areas of life and reflection for praise and petition.
About Thomas Cranmer. Born in 1489, his story is included in Foxe's Book of Martyrs, for he was burned at the stake in 1556. Cranmer worked hard for reform as Archbishop of Canterbury, demonstrating a concern for both right doctrine and right worship. His influence can perhaps best be seen in the Forty-Two Articles of the Anglican Church (which grew out of a list of important biblical beliefs he wrote for his own diocese to counter confusion in doctrine), and in the Book of Common Prayer, which he helped shape. His martyrdom is controversial, since he recanted his beliefs under pressure after his arrest. On the day of his martyrdom he shocked his accusers by recanting his recantation, and when the fire was lit, held the hand that had signed the recantation in the flames so it would burn first.
Cranmer's Collects are profoundly influenced by Scripture, and express powerfully and poetically the heart's cry of the people of God. With each Collect, Barbee and Zahl include a short history of the prayer, usually noting the original source of the prayer which Cranmer rewrote to reflect the teaching of the Reformation. They also include a page-long meditation, reflecting on the meaning of the Collect in light of Scripture and life.
Prayer for the 2nd Sunday of Advent
Blessed Lord,
which hast caused all holy Scripture to be written for our learning;
grant us that we may in such wise hear them, read, mark, learn, and inwardly digest them;
that by patience and comfort of thy holy word, we may embrace, and ever hold fast the blessed hope of everlasting life,
which thou has given us in our savior Jesus Christ.
Amen
We recommend The Collects of Thomas Cranmer for use in your private devotions and in corporate worship. And give the book as a gift to friends who take prayer seriously.
Prayers Written at Vailima
Robert Louis Stevenson is perhaps best remembered as the author of Treasure Island, Kidnapped, and The Strange Case of Dr. Jekyll and Mr. Hyde. Born in Edinburgh, Scotland in 1850, he moved to Samoa with his family in 1889 in the hope that the warmer climate would help his health, which had been deteriorating. Named "Tusitala" (story-teller) by the Samoans, he lived and wrote at his home, Vailima, until his death at the age of 44, in 1894, and was buried, as he wished, at the top of Mount Vaea.
Each evening a conch was sounded to call the Stevenson family and their Samoan friends and neighbors to a time of worship. Scriptures would be read, hymns sung, and prayers offered before everyone walked back through the trees with their lanterns to their homes and beds. Some of the prayers offered during these evening times of worship were written by the Scottish novelist, prayers which soon became greatly loved by the worshipers. Though few in number, the prayers of Robert Louis Stevenson are presented here, along with an introduction written by his wife, in a colorful book of illuminated calligraphy.
An Evening Prayer
Lord,
Receive our supplications for this house, family, and country.
Protect the innocent, restrain the greedy and the treacherous, lead us out of our tribulation into a quiet land.
Look down upon ourselves and upon our absent dear ones.
Help us and them; prolong our days in peace and honor.
Give us health, food, bright weather, and light hearts.
In what we meditate of evil, frustrate our will; in what of good, further our endeavors.
Cause injuries to be forgot and benefits to be remembered.
Let us lie down without fear and awake and arise with exultation.
For his sake, in whose words we now conclude.
Source
The Valley of Vision: A Collection of Puritan Prayers and Devotions edited by Arthur Bennett (Carlisle, PA: The Banner of Truth Trust; 1975) 223 pp. + bibliography
The Collects of Thomas Cranmer compiled for devotional use by C. Frederick Barbee and Paul F.M. Zahl (Grand Rapids, MI: Eerdmans Publishing Company; 1999) 119 pp
Prayers Written at Vailima by Robert Louis Stevenson (St. Louis, MO: Concordia Publishing House; 1999) 24 pp.