The Barbarian Invasions
(Denys Arcand, 2004)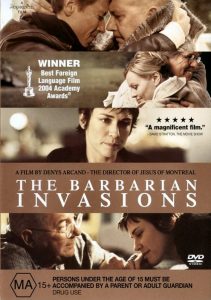 This Acade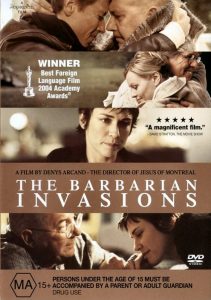 my Award winning film (Best Foreign Language, 2004) is quirky, surprising, well-crafted, and designed to prompt discussion, if not sharp debate. The story is simple. An aging professor is nearing the end of his life, a terminal disease sapping his health and increasing his pain. Former mistresses and close friends join his wife and estranged son to celebrate his life, to reminisce, and to, at his request, take him to a lovely cabin on a secluded lake where they can provide a way for him to end his suffering by ending his life.
Director Denys Arcand, who also wrote the screenplay, will not allow us simple answers to profound issues, but tells a story that is deeply human in which hard choices are faced by people who love one another, and wish the best for each other.
Like Million Dollar Baby, The Barbarian Invasions causes us to look deeply at life and death, and to see euthanasia not as a social issue, but as it truly is, a profoundly human choice that must be faced squarely and with a compassion that is willing to pay a cost for friendships that matter. The Christian will want to raise serious questions about the practice as it is depicted here, but we need to raise them not as an abstract ethical debate, but as a deeply human dilemma that needs careful reflection in a broken and painful world.
(99 minutes. Rated R for language, sexual dialogue, and drug use. Canadian, in French, subtitled.)