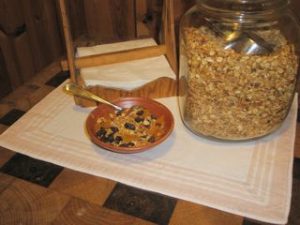 Dedicated:
To my friends who helped the homeless of Louisiana.
To those whose ate mangoes on a beach in Hawaii while their water pipes burst and leaked through the ceilings and walls of their house in Minnesota.
To all my friends sorting through ex-loves, current loves, illnesses, and the postcards of their dead mothers: I dedicate this Holiday Issue of Notes From Toad Hall.
One reason God made children is because they're gifted at making offhanded joy in the midst of some pretty intense circumstances. Jeremy Huggins reports on his blog that "A few days ago, a two-year-old girl vomited all over the table where I was sitting. She looked down at the vomit, looked up at me, laughed, and said, 'Jeremy, I frowed up.'" Jeremy is not a father. Which, strangely, increases the joy of this, don't you think?
Although I can't trump a child in giving such spontaneous joy, I can give you a few miscellaneous items that might make you look up from the table long enough to smile a minute or two.
First, An Ethnic Joke
My Aunt Beatty Frolander, who herself was as Swedish as a meatball, fondly called my mother a "Dumb Svede," even though Mom is not a blonde, and even though last fall she shot a buck from her bathroom window. This doesn't mean as her daughter I'm as smart or as good a shot, but it does make me Scandinavian which means I get to tell my people's jokes.
At Farmer's Market, Denis and I overheard a grizzled Norwegian tell this to a circle of old guys who slapped their thighs in appreciation:
Sven, Ole, and his wife, Lena, were ice fishing on a little lake in Minnesota. After they fished awhile, Ole asks Lena if she'll walk across the lake over there to Johnson's bait shop and buy him some beef jerky. She says, "Ya, I s'pose I will. Do you have any money?" Ole says, "No but you can just put it on my account there, then." They watched her walk about half a mile across the ice, and Sven finally says, "Ole, how come you didn't give her some cash, I know you got some there in your pocket? And Ole replied, "I didn't know how thick the ice was."
You'll Feel Better
This time of year we hit the eggnog and the pecan fudge pretty hard, but if you want something good – and aren't on some cruel variation of the Atkin's Diet – something so tasty, so healthy, (especially if you go organic) then make this, or get someone to make it for you. You can eat this anytime in moderation. It makes a great gift for someone who has everything. Or nothing. It's from my friend, Mary Jane Clark who'd be glad to share it. Mary Jane isn't around anymore. She's either resting, all healed from her cancer, or possibly she's eating granola and laughing with her first husband who left her via the windshield of a car one dark night when their children were small. In any case, I know nothing is dark for her now.
We used to eat this together in the morning, watching her cats stalk the butterflies in her garden in the foothills of Colorado's San Juan Mountains. I think if you make this and eat it you'll feel better about most things. You'll definitely be more regular.
Mary Jane's Granola
12 C. regular (thick-cut or long-cooking kind) oatmeal
1 C. of each of the following:
Sesame seeds
Oat Bran
Powdered Soy Milk
Sunflower seeds
Nuts (pecans, cashews, whatever)
2 C. coconut
1 t. salt
2 t cinnamon (optional)
Mix together in a large bowl.
In a small saucepan heat the following until the sugar is dissolved. Add to oatmeal mixture. Stir until well-coated.
1 T. vanilla
2/3 C. honey
2/3 C. brown sugar
2/3 C. olive oil
2/3 C. water
Place in 9×13 cake pans (makes 4 pans). Bake about 35 minutes at 350 ° until light brown and crisp, stirring several times. The recipe can easily be reduced. Before packaging in zip-lock bags add raisins, dried cranberries, or chopped apricots.
The Irony of God
Irony is, as English majors know, "the incongruity between what actually happens and what might be expected to happen, especially when this disparity seems absurd or laughable." I especially enjoy irony in someone else's life, like Jeremy and the vomit. I'm not as keen on personal demonstrations, but irony happens. This is a story dedicated to the incongruity of God's mercy and who I actually am.
In a large room decorated with construction cones, tool belts, and key chains with tiny replicas of hammers and screw drivers as party favors, women sat around tables eating fabulous dessert, and, I supposed, contemplating the metaphor (Extreme Makeovers – the title of this women's event) surrounding them. Husbands and sons, awkward in the role of waiting tables, threaded between us with carafes of coffee and tea. I nervously waited to be introduced as the main event for a church's gathering of un-churched friends and neighbors. Before I came to speak, Darcy, (not her real name) was on the program to give a kind of summary of what God has done in her life – Christians call it a "testimony." A diminutive, young woman with beautiful eyes, Darcy stood behind the podium, and told us about her fifteen lost years that began with a little bulimia and ended with her as a sixty-eight pound anorexic and abuser of alcohol and prescription drugs. Like addictions will do, they demanded everything from her, not only her body weight, but a few small items like her heart, liver, friends, family, and husband.
All she had left was this tiny, little shred of life, when her younger brother came to her to tell her he, too, was giving up. He told her, "You have ruined your life. You've ruined ours. When are you ever gonna change?" Assuming she wouldn't, he sat beside her crying for a long time and then left without hope. She'd been confronted many times, but something about her little brother completely broke her heart, and she marks that time as the turning point of her life. That night she threw everything down before God and cried out, "Help me. I need you. I want you."
That was two years ago and the beginning of Christ's remarkable redemption of her life. We sat at the same table together – I met her mother and her grandmother. Her husband was there too; he was out in the hall with their "miracle" baby in his arms—a round-faced, laughing little girl. He paced back and forth outside the auditorium praying for his wife. As Darcy got up, I saw her mom squeeze her hand and say, "You'll do fine." And she did. Darcy cried from the moment she began her talk until she ended with this passage from Jeremiah: "I know the plans I have for you, declares the Lord, plans to prosper you and not to harm you, plans to give you hope and a future." (Jer. 29: 11)
After this lovely story of amazing grace, it was my turn. It took about one second to realize that it might just as well have been the beautiful Norah Jones opening for Margie Haack. Right. What I needed to do was praise God, buy the CD, and go home. But I'd driven 250 miles to be there, and they'd also gotten me this nice hotel suite with a nifty bedside radio and an ice maker IN THE ROOM. I knew I had to face these women and begin with a confession. Then they could leave if they wanted since they'd already eaten their dessert and heard Darcy. Of course, confession is not entirely foreign land for me. It's just that what I must confess is so…well, you would think, for a Christian my age, it would be—avoidable. So as they dabbed their eyes, I plunged ahead.
Last summer in the space of a few weeks, I received more invitations to speak than I had in the previous two years altogether. I was beginning to wonder if God was sending me a message. Like, you're an okay person even if you're a little bit discouraged and haven't cleaned the vegetable drawer in the refrigerator for six months. It's true most of the invitations were not destinations, unless you've heard of Onalaska, WI or Hinckley, MN. I just wasn't up to adding an itinerary to my already anxious, over-wrought life. So I turned them all down except for this one, which I accepted by accident, though God may think otherwise. I was having a weak moment when I listened to the message my friend, Lisa, left on the answering machine about the possibility speaking at her church. I had just listened to the message when the mail arrived with one of my favorite clothing catalogs—which I usually throw away. But this time, I said to my husband, as I leafed through, "If I find an outfit I like I'll say yes." It'd been three years since I'd actually shopped for anything special. I won't mention which catalog because if I say it was K-Mart you might think I'm cheap and sleazy. But if I say Neiman Marcus, you'll wonder how I could afford them, which obviously I can't.
I was stunned to find something I really liked. I even lapsed into Minnesotan, yelling, "Oh, fer cue-it!" Then I laughed, and looking at the ceiling, I announced, "I was only joking." Then I felt so pagan, I only hoped God had a sense of humor. So to be on the safe side, I decided I'd better say yes to this invitation.
The irony deepened when I learned the theme for the evening was going to be "Extreme Makeover, Inside Edition." And how we are often tempted and trapped into living as if the only important thing is how we look on the outside. I should have just bailed. But I didn't. Somehow, in my talk I managed to segue into the idea that the central reality of our lives needs to be Jesus and that anything else we place there, even if it's a good thing, will eventually break our hearts. Which lately has been at the core of what I continue to learn about the Christian life.
Wherever Denis or I speak, we're kindly invited to put out free samples of Ransom's publications and a sign-up sheet for our mailing list which I did that night. At the end of the evening most of my samples were left and only two people signed up for our mailing list. By human measures this event was not a high point for our ministry. But you never know for certain what God can do with the material he has to work with.
One thing, I'm still here, alive, and not so ashamed that I can't lift my head and appreciate the irony of my existence—which isn't divine oversight—it's strictly a matter of God's loving mercy and grace.
Lip-sync This
The next day on the drive home I listened to music—to one song in particular, not from a Christian group as far as I know. Often, unaware, unbeknownst to the composer, a song becomes a hymn for those who recognize God in places where we least expect him. I sang heartily along with them "You Are My Joy." (From Reindeer Section's CD Son of Evil Reindeer. I wish you'd listen to a sample on iTunes or Amazon.) The words are mostly a repetition of the title which normally makes me think the songwriter was either in a trance or accidentally pressed the "repeat" button too many times. But it works here, and I love this song. I thought of my desire to make Jesus central to all my reality and that if he were with me, I'd dedicate the song to him. Because after all I've eaten and drunk in this life he is still the best thing, my joy. Then, I thought, that if (if?!) he really were with me, he might sing it to me. This notion of us being his joy is from Hebrews 12 which tells us he endured the cross "and the shame" for the "joy set before him." What he did not have before the cross—was us. So I continued to lip-sync, "You are my joy, you are my joy, you are my joe-oh-oh-wee" on both our behalves.