Finding God in the Movies: 33 Films of Reel Faith (Catherine M. Barsotti & Robert K. Johnston, 2004)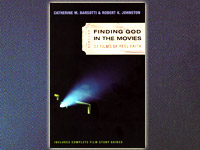 "This book is meant to help Christians find God in the movies," Robert Johnston and Catherine Barsotti say, "to use reel faith to encourage and strengthen real faith." For almost a decade this husband and wife team have been enjoying good movies, writing film reviews for their church magazine, and teaching on faith and culture (Dr. Johnston is a professor at Fuller Seminary). Now, in Finding God in the Movies, they have written a resource for Christians who take faith and film seriously. This book will deepen your appreciation and understanding of the cinema while providing practical in leading film discussions.
Finding God in the Movies opens with an introduction in which the authors outline the role film plays in our postmodern culture, and how Christians can engage this art form. Barsotti and Johnston explain how to unpack the story of a film, and provide guidelines on how to lead a movie discussion. The rest of the book—from page 35 to the end—consists of 33 movie reviews. Each review follows a similar format: a brief list of the major themes the film explores, the basic credits, a summary of the film written from the perspective of Christian faith, a set of texts of Scriptures which address similar themes, discussion questions, and some background material on the film which can deepen our understanding about its production and reception. Finally, the 33 films Barsotti and Johnston address are divided into basic topics, such as affirming our humanity (including Life is Beautiful and Amistad), forgiveness (Smoke Signals), faith and doubt (Signs), images of the Savior (The Spitfire Grill), and affirming our humanity (Amistad). (Which also gives you an idea of some of the films they include.)
"The task of thinking as a Christian," Johnston and Barsotti say, "is always a conversation between our faith and our culture, a dialogue between our stories and God's Story." Movies are the central story-telling medium for the postmodern generation; they are not just entertaining but the cultural space where matters of the heart are explored and discussed. That exploration and discussion, of course, can be for blessing or for curse in this fallen world.
Please understand: this does not mean we should turn movie discussions into the latest evangelistic technique. The best films are carefully constructed works of art by creative people made in the image of God. Those films should be experienced and appreciated for the art they are. "The first demand any work of art makes upon us is surrender," C. S. Lewis insists in An Experiment in Criticism. "Look. Listen. Receive. Get yourself out of the way. (There is no good asking first whether the work before you deserves such a surrender, for until you have surrendered you cannot possibly find out.)" That is very sound advice. We can enter the story and without for a minute setting aside our own convictions and values, for the length of the movie see something of the world from someone else's perspective. Then we can discuss it, listen to what others saw which we might have missed, identify what might be attractive to so many, and reflect on its themes in light of the revelation of God in Scripture. And if take the time to learn to listen and see, we will discover that all around us people are involved in similar discussions, from a myriad world views, talking about what they have seen and believe, doubt and wonder, fear and hope. It is a lively and ongoing conversation, and one which the people of God need to join.
Finding God in the Movies is a good resource, and we recommend it to you. As in all such books, you may not always agree with everything the author's write, but engaging their ideas thoughtfully will only increase the value of the book. And if you find they express some things differently than you do—like "finding God in the movies" instead of "seeing spiritual themes expressed in the movies"—discern what difference the difference makes.
Families and small groups would be wise to read and discuss William Romanowski's Eyes Wide Open (Brazos), and then watch and discuss the films covered in Finding God in the Movies. It will not only be stimulating, but will stimulate growth in cultural discernment.