The Faithfulness of Sadao Watanabe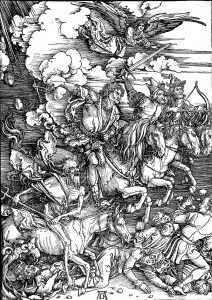 I remember when I first fell in love with the art of printmaking. Somehow I came across the woodblock print by Albrecht Durer, Four Riders of the Apocalypse (1498). I was stunned by the rich detail the artist had painstakingly carved into the surface of the wood, and wondered how such craft was possible. The image was transformative for me, because not only did it reveal something of the glory of creativity in art, it opened my imagination to Holy Scripture. Being raised in a fundamentalist church meant I was familiar with the text from Revelation 6. A great scroll was before the throne of heaven, and as its seals are broken open, four horses—white, red, black, pale—surge forth, bringing judgment on the earth. Sermons on such texts were stern and ponderous, full of warning. But Durer's image was like a glimpse into another dimension, here but also beyond, setting my imagination free to see reality as bursting past the narrow confines of what I yet knew. There was a greater story unfolding and though I wasn't certain what that meant I wanted to be in it.
Fine printmaking occurs at a complex and creative intersection between craft and art. At the simplest level a reverse image of the final work is carved into a wood or linoleum block. If multiple colors are to be used, multiple blocks will be made, one for each color, each carefully aligned to fit seamlessly into the final image. Then one by one the paint or ink is applied to each block in turn, the paper pressed onto the block and the task repeated for each color, the final image built up and then left to dry. There are myriad variations on the process, complicating an already complicated creative endeavor.
One variation comes from Japan, where stencil cutting and techniques of dying originally developed for the fabrics used in kimonos are used to make prints. Special paper, handmade in a laborious process from the bark of the paper mulberry tree, called kozo is used for the prints. The paper is treated with a solution of devil's tongue root, then crushed and wrinkled, stretched and smoothed so that it presents a creased and textured surface. To produce the stencils shibugami is used, a tough paper made from mulberry, layered and hardened with persimmon tannin, and dried and cured in a smokehouse. The dyes used for the various colors are handmade as well from natural sources. The artists who master this technique are content to step away from our one-click world to honor and maintain a tradition of high excellence that goes back centuries.
One such artist is Sadao Watanabe (1913-1996) who left a rich legacy of exquisite prints that should be of special interest to Christians. A Japanese Christian who worked with patience after long years of training, Watanabe dedicated himself to producing prints using biblical motifs. "I have always aspired to portray stories and episodes from the Bible," he said. "In this disturbed world, I would like to be able to heed the voice of heaven" [p. 74]. Watanabe knew that if Christianity is seen to be a foreign, alien Western tradition it will never be attractive in Japan. "Theology will not take deep root in Japanese soil," Watanabe said, "if it is merely an import" [p. 12].
Watanabe's art, both in detail and technique is profoundly Japanese. "My task," he said, "is to stand within the artistic tradition of Japan" [p. 11-12]. So if you take the time to observe his work you will notice sweet hints that the biblical text is being reimagined cross-culturally. In his print of the marriage feast in Cana, The First Miracle, the guests are seen enjoying a meal of lobster. The Last Supper depicts the disciples seated around a table with the Lord on which the central platter holds a luscious fish. It is not that Watanabe is mistaken in his understanding of scripture but that he desires his Japanese viewers to see these two feasts as noteworthy, celebrations they need to not just know about but enter.
I have had one opportunity to see Sadao Watanabe's prints in person. Last month Margie and I wandered east out of Minnesota for a road trip. We passed through 12 states, stopping in six places in 5 states for speaking and meetings. One stop was in Pennsylvania where we visited Square Halo Gallery in downtown Lancaster. The curator, Ned Bustard, the creative director of Square Halo Books and his wife, Leslie were our companions for the visit. The gallery show was prints by Watanabe, so after walking around to view each one we sat in easy chairs in one corner to talk. It was a delightful time of conversation about art, culture, scripture, Watanabe and so much more.
Watanabe prints exude, somehow, a contemplative air, inviting us to be still and look. Like icons the images are not rendered as a history lesson but to capture the essence of deeper truths embodied in the biblical story. Highly stylized, the figures are depicted simply but with a sense of dignity and gravitas. Color is used sparingly, highlighting the print so that our eye reads the image as a story. Some art that I see makes me want to immediately talk about it. Watanabe's makes me want to be quiet, to enter in to something that rescues my ordinary from the merely boring and mundane, not by injecting excitement but by refocusing attention on the deeper things of the soul.
In Beauty Given by Grace: The Biblical Prints of Sadao Watanabe, Square Halo Books has produced an art book that rewards repeated readings. Half the pages in this large format book are full page, full color illustrations of Watanabe's prints. Each is paired with the biblical text that inspired the image, and a second reproduction of another related print either by Watanabe or another artist worth noting and comparing. Beauty Given by Grace also includes, woven throughout, four thoughtful essays. Even if this is your first introduction to Japanese printmaking and to Watanabe, these insightful, clearly written, and informative essays will serve to open a new world of visual art to your view. They include:
"Beauty Within Reach" by artist Sandra Bowden. "It is gratifying," Bowden writes, "to study the life of Sadao Watanabe and realize how dedicated he was to his calling. There were those close to him who discouraged his biblical art, fearing that he could not make a living creating prints of Bible stories. However, even in a culture unreceptive to Christianity, his commitment never wavered. Watanabe found an idiom that merged both his art and his faith, using a traditional Japanese stencil art form for dyeing kimonos that he hoped would speak to his people" [p. 10].
"Soli Deo Gloria: My Experience as Sadao Watanabe's Translator" by theologian I. John Hesselink. "As I got to know Watanabe better, I would occasionally suggest biblical subjects to him that he had not yet covered. He respected me as a theological professor, but I don't think he ever followed my suggestions in his artwork. He knew the Bible very well and was not about to let anyone tell him what biblical scenes his art should portray. His quiet self-confidence in what he was doing, however, was not a sign of arrogance—for he was one of the most humble men I have ever known" [p. 30-32]
"My Journey with an Artist I Never Met" by artist Makoto Fujimura. The visual language of Watanabe, Fujimura writes, "is generative: a feast to the eye and edifying to the spirit, a reserved pocket of synthesis in our fragmented, dissolute times" [p. 40]
"Profound Faith, Profound Beauty: The Life and Art of Sadao Watanabe" by former Time editor and Sacred Art Pilgrim Collection owner, John Kohan. "A quiet, reserved man," Kohan says, "Watanabe revealed a droll sense of humor in his biblical prints. In some versions of Wedding at Cana, servants can be seen furtively dipping their fingers into the water pots to sample the miraculous vintage of wine before passing it on to the guests… In An Angel and Shepherds, Watanabe includes two black sheep in the flock these shepherds watched by night. The katazome master was asked one time why he chose to depict the Three Kings paddling for home in a boat. He had a wry answer no biblical scholar could dispute. As Watanabe pointed out, the text in Matthew 2:12 clearly states that after being warned in a dream not to return to King Herod, the Three Kings 'departed into their own country another way.' If they had come by land, why not return by sea?" [p. 94]
I recommend Beauty Given by Grace to you warmly. Keep your copy on a coffeetable where people can pick it up easily. An wonderful introduction to a superb 20th century Christian artist, it can also serve as devotionally, providing biblical texts and accompanying art to help as we meditate on the things that nourish our souls.
Source
Beauty Given by Grace: The Biblical Prints of Sadao Watanabe (Baltimore, MD: Square Halo Books; 2012) 107 pages + glossary + bios + notes.