The Reason for God (Tim Keller, 2008)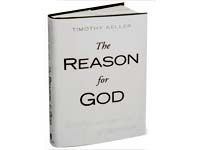 Engaging Doubt for Clarity's Sake
Some things should become habits of the heart. Things like not agreeing to commitments until we've had an adequate chance to reflect on our calendars. Things like listening and asking questions before we begin to speak.
Developing habits always feels unnatural at first, especially if they mark a distinct change from how we've tended to operate in the past. If we keep at it faithfully, however, they can become a completely natural part of how we think, imagine, interact, and live.
At the beginning of The Reason for God, Tim Keller outlines a simple, yet radical idea.
I commend two processes to my readers. I urge skeptics to wrestle with the unexamined "blind faith" on which skepticism is based, and to see how hard it is to justify those beliefs to those who do not share them. I also urge believers to wrestle with their personal and culture's objections to the faith. At the end of each process, even if you remain the skeptic or believer you have been, you will hold your own position with both greater clarity and greater humility. Then there will be an understanding, sympathy, and respect for the other side that did not exist before. Believers and nonbelievers will rise to the level of disagreement rather than simply denouncing one another. This happens when each side has learned to represent the other's argument in its strongest and most positive form. Only then is it safe and fair to disagree with it. That achieves civility in a pluralistic society, which is no small thing.
We Christians must be willing to make this a habit of the heart (even if skeptics don't). Sound bites are not sufficient for making an adequate case for the faith, nor are easy arguments against unbelief convincing. A good way to demonstrate our conviction that non-Christians are made in God's image is to search out and engage their most profound doubts and challenges to Christian faith. Which means that at times we may help them formulate a stronger version of the challenge than they originally expressed. Doing that is a service of love, as is going on to engage it thoughtfully with them.
In the past, I think, the unspoken assumption has been to keep a respectful distance from doubt—make that a fearful, defensive distance. And to answer doubt quickly when it shows up as if a quick answer ever solves the issue. Let's engage it fully, carefully instead, for clarity's sake.
And if we find ourselves too busy for this task, then we're too busy.
Source
The Reason for God: Belief in an Age of Skepticism (New York, NY: Dutton; 2008) p. xviii-xix.