David Eugene Edwards, Woven Hand (2002)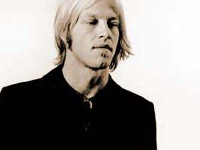 I am nothing without his ghost within
and all your wooden eyes cannot see
the good hand upon me
~David Eugene Edwards
Out of the many albums that enter my life, a few so resonate with my soul and delight me musically that I put them on repeat, sometimes for days. Even more occasionally does my wife have the identical response, because though we often like the same things, we don't always like the same things to the same degree. In the case of Woven Hand, the remarkable first solo album by David Eugene Edwards of 16 Horsepower, we were both equally entranced. If it had been a record on a turn-table, we'd have worn it out in a week. The CD has made me a bit irritating to friends, I'm afraid, because I've tried to introduce Woven Hand to everyone I meet.
Trying to find a label to describe Edwards' music is difficult, because the sound is his own. As lyricist and lead vocalist for 16 Horsepower and as a soloist he blends a traditional, deep-rooted folk and blues sensibility with a modern rock feel, coupled with lyrics that force us to stop and wonder. His music is a cry of lament, a deep, heart-rending grief over the bent condition of the world which blinds the very ones who most need grace to the grace they need most. A lament always colored with hope, because the good hand of which he sings is his by grace.
Who is who was who is to come
given to other lips
spoken on other tongues
where are you and where have you been
hold fast hold fast
till he come again
16 Horsepower is based in Denver, CO, but is better known in Europe than in the U.S. David Eugene Edwards, the grandson of an itinerant Nazarene preacher, is an outspoken believer whose arresting lyrics are perhaps best described as a cascading series of images shaped by the truth of the gospel. In 1992 Edwards met drummer Jean-Yves Tola and guitarist Pascal Humbert from the French band Passion Fodder, and 16 Horsepower was born. Fiddler Gordon Gano of the Violent Femmes, double-bass player Keven Soll, and guitarist Steve Taylor join them on some pieces. More recently Edwards wrote and recorded the music for Blush (available on CD), a composition of Dutch choreographer Wim Vanderkeybus for his dance company, Ultima Vez. "Blush examines the liberation from physical and mental isolation through communication," Paste Magazine notes. "The performance is driven by emotion and intuition, and the narrative is secondary. Edwards, whose music lately draws as much from centuries of European folk music as from American country, plans on accompanying the piece live."
In concert Edwards is like a coiled spring, intense and vivid, commanding attention not with stage tricks, but with the quality of his music. "The world is the world," he said in his workshop at the Festival of Faith & Music at Calvin College, "and we should never be surprised by it." This realism of vision underlines the truthfulness of his music, so that the images his lyrics evoke are multilayered with meaning.
Self righteous self pity
this I do not doubt
bind and turn the strong man out
for you know my frame
the sound of my new name
as I hold forth nothing worth saving
for I am everything
I am everything
I am everything that he is not
His fellow band-members do not share Edwards' faith, but the respect they have for one another as persons and musicians is a clear demonstration of what it means to live in a fallen world as if we really believed that our neighbors, friends, and colleagues are made in the image of God.
Folklore is a CD that reveals the deep rootedness of 16 Horsepower's music, with several of Edwards' compositions along with covers of "Outlaw," an old Hungarian song, "Alone and Forsaken" by Hank Williams, "Single Girl" from the Carter family, and several other traditional pieces, including a French Mazurka. The American traditional "Sinnerman," in 16 Horsepower's arrangement is fiercely passionate, an echo, it would seem, of Edward's own heart and soul.
Secret South, released in 2000, includes the traditional "Wayfaring Stranger," and Bob Dylan's "Nobody 'Cept You." One song by Edwards on this album, "Burning Bush" takes us into the imagination, struck with wonder, of the woman who washed Jesus' feet with her tears. "Cinder Alley" is a searing ballad of violence and healing:
Lovely lovely Carol Sue
I see the heel of the father
Crush the head of the serpent for you
And that beast who found
His way up to your room
You know the one the one
Who's colors are never true
Sorrow stands near and close at hand
Sorrow stands and in sorrow's hand
The burning ember
And the good shepherd
Lo he left all the others
An went to look for you
Yes and he did find thee
An with bruised hands
He did unbind thee
Brought you out
Into the light of day
One of the complaints often heard from Christians today is that Western society is not a level playing field. That Christianity is at a disadvantage in the public square, given less freedom than its rivals. And perhaps there is truth in that, though the fact we complain about it makes one wonder if we have read the Sermon on the Mount where Jesus tells us to expect such inequities as normative in a fallen world. One thing is certain, however: if the music of David Eugene Edwards proves anything, it is that Christians are at no disadvantage if their proclamation is deeply rooted, creatively pre-evangelistic, and superbly crafted. This is music that goes to the heart with the truth, prompting conviction and evoking questions about the things that matter most.
Let us not mince our words
let's say it true this time
I need your forgiveness
Just like you need mine
Tell me how it is that
You don't want what He's given
It ain't no sin, son
To be forgiven
Source
Secret South, 16 Horsepower (2000).
Folklore, 16 Horsepower (2002).
Woven Hand, David Eugene Edwards (2003).