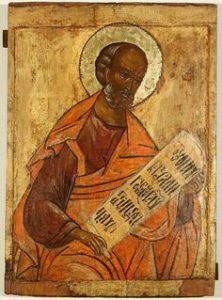 It might be wise to resurrect a biblical greeting that was used when God's people faced uncertain times—"Be of good courage." The story goes like this:
For three generations the people of Israel had been a nomadic tribe freely wandering the hills and land of ancient Palestine. Abraham had been the first, the patriarch who was followed by his son, Isaac and in turn by his son, Jacob and his family of twelve sons. Then famine swept through the land, as sometimes happens in a dry place dependent on seasonal rains. Harvests failed and the sprawling pasture the Israelites depended on for their flocks dried up. Word was that there was food in Egypt so Isaac sent his sons there to purchase supplies, and in a series of events that need to be read to be believed the Israelites ended up moving to Egypt as refugees fleeing famine. At first things went relatively smoothly but then political change in Egypt transformed attitudes. The Egyptians feared there were too many Israelites in their land, and that in time of crisis they could not be counted on to remain loyal. So they changed the marketplace, and enslaved the Israelites in a system from which there was no escape. The Israelites prayed, but God was silent.
If you have read the Bible you know the story, how that at long last an improbable man named Moses was used of God to lead the Israelites out of Egypt. They wandered first east and then north up into Palestine until they reached a wilderness area, Paran, famous for the caverns that pocket it's hills (known as Badiet et-Tih today). At God's command Moses sent spies into Canaan to search out the land they expected to become their own. The task was not without risk, of course, since the Canaanites had zero interest in giving up their land to the newcomers.
So, when Moses sent out the spies he had a special word for them: "Be of good courage," he told them (Numbers 13:20). Later, after the Israelites are settled in the land war breaks out, and Israel's army becomes trapped between two enemy armies, the Ammonites and the Syrians. The Israelite commander tells his officers of his plan for the battle, and recognizing the danger they face tells his men, "Be of good courage" (2 Samuel 10:12). Centuries later the exilic prophet Daniel is visited by a spiritual being so grand that he falls to the ground, trembling before such overwhelming glory. "'O man greatly loved,'" Daniel was told, "'fear not, peace be with you; be strong and of good courage. And as he spoke to me, I was strengthened and said, 'Let my lord speak, for you have strengthened me' (Daniel 10:19-20). And the phrase appears again, repeated twice in a letter written by St Paul. He is talking about the transience of life, the frailty of our bodies so broken in this fallen world, and the yearning we feel for something more permanent and settled and certain. "So we are always of good courage," the apostle says. Right now we walk by faith, not seeing the One we serve and looking forward to the day when our Lord's kingdom is fully consummated. "Yes, we are of good courage," Paul says, and in this in-between time when Christ's kingdom is established but not yet fulfilled "we make it our aim to please him" (2 Corinthians 5:6-9).
Be of good courage. I suggest this should become a blessing we say to one another as we end conversations. Be of good courage. Life may be uncertain, our neighbors may be afraid, and we may be disappointed by all that is unfolding but these things, though significant, are not the ultimate realities. The tomb remains empty, God's promises remain certain, and Christ remains King. These are the ultimate realities we face; they have not changed nor will they. So, Be of good courage. If our imaginations are so pummeled by news and rants of uncertainty and fearfulness that our hearts fail within us, we can choose to spend more time embracing reality than focusing on the transient and trifling affairs of a world gone astray.
A lot more could be said, of course, but remember this is meant to be a pointer to stimulate thinking and discussion, not a final answer. Take it from here. And whatever the details, be of good courage.
Source
Editor's note: Several sentences in this section were inadvertently omitted from this section of "Faithfulness in Political Uncertainty" when it was originally published (Critique 2017:2, page 13). We regret the error in the printed copy of the magazine.