Complete in Christ: Rediscovering Jesus and Ourselves (Nigel Cameron, 1989)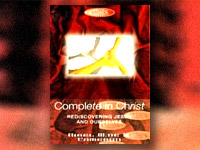 Brief Classic on Incarnation Reissued
In 1998, Nigel Cameron published Are Christians Human: An Exploration of True Spirituality, which sadly went out of print. The book was a brief, accessible, intensely practical study of the incarnation, that mysterious doctrine that claims that in Christ, God became a man and entered human history. Dr Cameron outlines the biblical teaching on the humanity of Christ, and then unpacks its meaning for the life of the mind, guidance and choices, our emotional life, everyday life as physical beings in a physical world, and the implications of the fact that Jesus' humanity was not temporary, given up when he ascended into heaven, but instead eternal.
It is easy, in our desire to honor Christ as God, to so emphasize his divinity that we lose sight with the equally important truth that he is fully human. Understanding that revolutionizes our view of what it means to be human, the significance of ordinary life, and its implications for shaping Christian faithfulness.
Cameron's book has been republished as Complete in Christ: Rediscovering Jesus and Ourselves in a special, inexpensive printing for Christian leaders in the underdeveloped world. A limited number of copies are available from Hearts and Minds Books (717.246.3333). I urge you get a copy of Complete in Christ.
Source
Complete in Christ: Rediscovering Jesus and Ourselves by Nigel M. de S. Cameron (Cumbria, CA: Paternoster Press; 1989) 113 pp.