Bob Dylan, Christmas in the Heart (2009)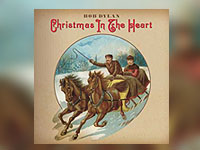 Bob Dylan in the Holiday Spirit
Margie and I add to our Toad Hall collection of Christmas music by purchasing one new album each year. So, when I learned Bob Dylan was releasing Christmas in the Heart, this year's selection was guaranteed. Sometimes shopping is easy.
Dylan is famous for singing his old songs in new ways, surprising his audiences with new arrangements of classic titles. I expected some of that on Christmas in the Heart, but Dylan plays it straight. These are traditional songs played traditionally. I'm glad he didn't mess with "O Come All Ye Faithful" and "O Little Town of Bethlehem," but "Little Drummer Boy" and "Must be Santa" positively beg to be messed with. But there is none of that here. Dylan even employs a choral group as backup singers to supplement his normal band, who play rather sedately. And in keeping with holiday spirit, all proceeds from the CD sales go to a charity (Feeding America).
"For all the world," Joshua O'Neill writes, "the record doesn't feel like a charity album or a goofball lark or an odd experiment–it just sounds like the work of a dude who really, really loves Christmas. Dylan doesn't strip the songs down, doesn't transform them into his signature dusted roots music. To the contrary: his smooth, stolid productions make the Bing Crosby versions sound spontaneous and lo-fi."
Critics have not known exactly how to respond to Christmas in the Heart. Some have wondered if Dylan means it as a joke. Others pass it off as nothing more than a cynical way to raise money for a charity he believes in. Paste says that the "creepy guy from the Victoria's Secret commercial has a Christmas present for you." Others have feared it was the beginning of a new religious phase in his music, like the period around the release of Saved (1980). Some have simply dismissed it as a bad album from an aging master. And as usual, Dylan keeps us guessing. Though the Christmas carols and holiday jingles are played straight and the CD cover artwork is a sentimental Currier & Ives-type picture, inside is a scantily dressed pin-up in red satin and white trim posed seductively besides prettily wrapped presents.
I have no special insight into Dylan's intentions, but I suspect the truth is simpler than the theories proposed by the critics. Dylan's music has always had deep roots. The long tradition of blues, gospel, and spirituals have always nourished his soul and provided a rich well-spring from which his own artistry has flowed. He may mess with lots of things, but Dylan believes some things are sacred. The traditions–and music–of Christmas have helped shape the landscape he is part of and into which he has looked with admirable clarity and insight over so many years as a musician. Why wouldn't he take it seriously, by honoring traditional expressions that have stood the test of time? This is precisely what I would expect of him.
So Toad Hall has its new Christmas album for 2009. It's a good one to add to our little collection, even though I wouldn't rate it one of Dylan's great albums. But then, at Christmas the point isn't being great but celebrating a greatness that begs the imagination. God entered human history, and as a result nothing, absolutely nothing is the same.
Give to our Father
Glory in the Highest
O come let us adore Him
O come let us adore Him
O come let us adore Him
Christ the Lord.
What's nice is that to my ear at least, Dylan sings it like he believes it.
Source
Joshua O'Neill Online: www.popmatters.com/pm/review/114628-bob-dylan-christmas-in-the-hear
Paste Online: www.pastemagazine.com/articles/2009/10/bob-dylan-christmas-in-the-heart.html