Architect of Evangelicalism (Carl F. H. Henry, 2019)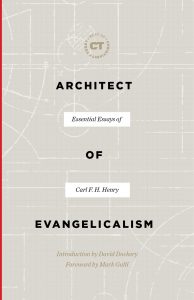 Architect of Evangelicalism
If biblically orthodox Christians are not to be merely reactionary about evangelicalism now that it is in some turmoil, it is essential to remember the history of the movement. Only then can we determine what are its strengths, what went wrong, what needs to be salvaged, what needs to be jettisoned and where we wish to position ourselves confessionally. And we will not know that history if we do not consider the groundbreaking work of theologian Carl F. H. Henry (1913-2003).
Architect of Evangelicalism collects 33 articles Henry published in Christianity Today between 1956 and 1989. They reveal his commitment to a high view of scripture and historic orthodoxy and his desire to call the church to embrace and apply the truth of God's word in an increasingly secular society. The specific sociological, cultural, political and doctrinal issues Christians face in the opening decades of the 21st century have shifted some since Henry's day, but we must never lose his insistence that the faith has something important and substantial to say to every issue, challenge and question that confronts us.
Book recommended: Architect of Evangelicalism: Essential Essays of Carl F. H. Henry (Bellingham, WA, Lexham Press, Best of Christianity Today; 2019) 383 pages + indices.