Andrew Bird, Break It Yourself (2012)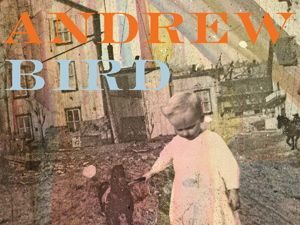 Mistaking clouds for mountains
This week I went to my first Andrew Bird concert. I have his albums so knew I would enjoy the music, but I had no idea how electrifying the evening would be. Bird's passionate singing and playing, intriguing lyrics, lush instrumentation, and beautifully creative melodies and sounds blended together to provide two hours of nonstop music that seemed like a dream that passed in seconds but keeps on echoing in the background of memory.
"Over a nearly 20-year career," Jon Dolan writes in Rolling Stone, "Chicago singer, songwriter and violinist Andrew Bird has built a rep as one of indie rock's most beguiling light touches—a dude who makes Jeff Tweedy look like a Nordic death-metal pyro. Fusing elements of jazz, Celtic folk and chamber pop while softly talk-singing—or whistling—tunes with titles like "Scythian Empires," he might be gratingly pretentious, if he wasn't so unobtrusively amiable."
I've always liked Bird's music, but the concert gave me new ears to listen to his latest album, Break it Yourself. It is conceived with rich complexity, both lyrically and musically.
Here we go mistaking
clouds for mountains
Here's the thing that brings
the sparrows to the fountains
Here's the thing that makes you run
to the highlands
Here we go mistaking
clouds for mountains
Autonomy
Having graduated with a degree in violin performance, his touch on the violin, alternating with a second violin he plays as a fiddle—that he both bows and plucks—is exquisite. His whistling appears effortless and sounds ethereal, and there are few musicians that use looping to better advantage. In the concert we attended, Bird first appeared on stage alone, and using a variety of instruments, his voice, and whistling, laid down looped layers of melody that built up into a rich performance that though long, could have gone on almost indefinitely as far as I was concerned. How one man could produce such beauty was mesmerizing.
Beekeeper sing of your frustration
In this litigious breeze
Of accidental pollination
In this era without bees
We keep breeding desperation
In this era of thieves
Who keep stealing respiration
From the tenderest of trees
There is an air of mystery about Bird that I suspect he encourages, though not in the crass sense of promoting a particular image of himself. In an interview it was mentioned that some critics have called him "willfully obtuse." To which Bird replied: "I'm not the most direct person, and so it makes sense that my songs aren't terribly direct either. The path needs to be encoded. I'm not a confessional singer/songwriter; I've always been into defining a different way to say it, a different way to twist it. Meanings that serve several purposes help protect my own privacy for one, and also when I have to play these songs every night, you can find something in it every night."
There is something very postmodern about that, and attractive, too. It reminds us that words and music can have meaning without being necessarily limited to only one meaning. It is in this space that reflection flourishes and questions are nourished. For fully satisfactory answers, we will have to drill down a bit deeper, down to the true source of Beauty.
Source
Rolling Stone
online (http://www.rollingstone.com/music/albumreviews/break-it-yourself-20120306); interview online (http://thequietus.com/articles/08125-andrew-bird-interview).
Break it Yourself by Andrew Bird (Mom + Pop; 2012)