Zero 7, The Garden (2006)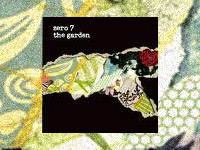 Social Implications
If I were to say to you, Zero 7, what would you think? Perhaps an ad pertaining to cars and their acceleration capabilities would be possible. Yet, if you've ever stepped into a mellowed atmosphere coffee shop or a dance club or caught a glimpse of any of these television staples: Jimmy Kimmel Live, Gilmore Girls, Sex and the City, Six Feet Under, Roswell, or movies like Blue Crush or Garden State, then Zero 7 will translate into a rich conglomerate of trip-hop, lounge music, acid-jazz, soul, funk, and downbeat electronica that's accelerating in its own way throughout the musical world.
For some of us, we don't need a pot of coffee and four bran muffins to be alert enough to rant about such music, but in this age of pluralistic interests in music and the like, Zero 7's progressively ubiquitous presence is worth a consideration and spin. One will likely hear tinges of various musical artists from Radiohead, to Muse, Coldplay, Air, David Holmes, Massive Attack, Thievery Corporation, and Komeda. As such, Zero 7 offers us a collaboration of mellow and upbeat music with lots of potential toe tapping tarry.
The production genesis of Zero 7's Sam Hardake and Henry Binns, who established themselves on the musical remix projects of Terry Callier's "Love Theme from Spartacus" and Radiohead's "Climbing Up the Walls", led to their first EP release in 2000, titled EP 1. Catapulting from that success, they released their second EP, aptly titled EP 2 in 2001 along with their first album, Simple Things, followed closely by their second album, When It Falls in 2004. Zero 7's third studio album, The Garden, released in the UK and US this past May, utilizes a plethora of contributing artists, each album growing the musical family with the likes of: Aussie Sia Furler, Brits Sophie Barker and Mozez, Danish Tina Dico, and Argentinean Swede Jose Gonzalez.
Garden is produced by its parents Sam Hardaker and Henry Binns, with mixing by Phill Brown, and cover art a few steps up from a British episode of a Monty Python animated Terry Gilliam short but with a hint of legendary graphic designer Saul Bass, by Gid London. Maintaining their unique sound but with a twang of upbeat to their downbeat genre gleanings, The Garden features Aussie favorite Sia on six tracks: "Throw It All Away", "The Pageant of the Bizarre", "You're My Flame", "This Fine Social Scene", "If I Can't Have You", and "Waiting to Die" and new 7er Jose Gonzalez on four tracks: "Futures", "Left Behind", "Today", and "Crosses". There are also some surprise contributions in the debut vocals of Henry Binns and some acoustic guitar support on "Seeing Things" from famed Radiohead producer Nigel "swoosh" Godrich.
Philosophical Implications
We all have our own musical coif and our tendencies to be esoterically hypercritical and to engage in supercilious banter are generally innocent but nonetheless arbitrary without a sense of justification as to the why. Distinguishing good and bad music is difficult especially in terms of music like 7's which at times is merely the creatively collaborative process of sound engineering and mixing. How does one determine intentionality in music, especially music in which lyrics defy convention? This is an important reason for consideration.
Aside from our Dragnet vernacular, "just the facts", the challenge is distinctively and intelligently, with philosophical justification, determining qualitative potential and impact? The Garden is essentially a placid mix of harmony intermingled with lyrics that seem to linger on notions of relational significance. In this, we have a mutual ground upon which most homo-sapiens are linked, relationship. Relationships are uniquely the apex of our lives from family to friend and lyrics that dig in and around this theme attract many fans with the music being the initial and typical pull. For the cosmopolitan convivial single with on off again tendencies this music is appealing and the lyrics personally charged and relevant. However, obviously the reality is that our relationships incessantly remind us of our attempt to find purpose and identity within ourselves and those around us rather than in our Creator. We don't want to delve into musical intentionality, rather we want relational intimacy. Its here we run amuck with our illusionary grandeur of intimacy, aggrandizing our faulty human relationships for the centrally core issue of the human heart, God. 7's music is novel and fresh and the philosophical and relational sums are typical and overly simple, though relevant.
It's in the ubiquitous qualities and far reaching implications of popular secular music that we cannot turn a blind eye or cling to sophomoric ideology. Regardless of our like, it is everywhere and all encompassing on vast levels. However, putting faces and names to our habitual terminology of secularism and paganism manifests a sense of hyper-personification that is necessary for us to engage relationally and not merely cognitively. Whom was Jesus weeping for when he rode in gloriously on Palm Sunday, the inanimate intangible, city, or the face and named people? The parallel realities are that our cities are no different in terms of their functional and core need for good news, the gospel of Christ Jesus. This is not a proclamation of Zero 7 though they cannot help but utter residue to such issues of the human heart in which creation longs for redemption, unbeknownst, with its Creator.
Questions
1. "Well do you see? The futures holidays are for me. Just let me know, where we go after the fall." (futures) What are your impressions of this? What do you think is meant by the 'fall'? Why is the song entitled, "futures"?
2. "So you crash, and you burn. Sometimes the road will twist and turn. Cash it in and throw it all away. Never needed any of it anyway." (throw it all away) What's the theme in this? What object or person would you imagine this is about? What attribute would you give to this song?
3. "Take a chance on me. You're my remedy. You may fall indeed. You'll find peace with me." (the pageant of the bizarre) This claim offers remedy and peace. Why do we need these in our life? Does relational intimacy substitute and sufficiently meet our core needs? How does Christ efficaciously suffice where relationships do not?
4. "You wouldn't care if you had nothing at all. Instead of chasing the dream, you're just chasing a ball…I see your reflection, your reflection is me. You're my flame." (you're my flame) What is meant by 'you're my flame'? The notion of reflection here implies what? Relationship gives humanity a sense of significance, how so and why?
5. "Looking back in a mirror, it all becomes clear. The views are not the same. I see sun, you see rain. Cleaning up the mess you left behind." (left behind) What thoughts does this conjure up? How important is time and reflection in our understanding? What attitude do you sense in the notion of "mess you left behind"?
6. "Can't remember when, but it's happened before. Saw it all played out through a crack in the door. Today. The words don't mean enough for us to say. To steal the moment that we gave away." (today) What does it mean to say that words don't mean enough? How do these lyrics equate with the title, "today"? What's the primary theme of this song?
7. "Blossom lipped ladies and men with a gleam in their eyes. Fat happy babies sit on their born thin mother's thighs. I couldn't see the cracks in this fine social scene. I couldn't find the fault with this whole pantomime." (this fine social scene) What do you take from these lyrics? What do the terms "social scene" and "pantomime" intend and mean?
8. "What do you do when you're in your place? What's going through your whirling mind? I wish I could see inside of your place. It looks like a better place than mine." (your place) How does comparison play a role in our identity? How do we centrally define our identity? Who or what shapes it?
9. "Don't you know that I'll be around to guide you? Through your weakest moments to leave them behind you. Crosses all over, heavy on your shoulders." (crosses) How sufficient is human peace? What does the term "crosses'" imply here? What does it arouse in human relationships?
10. "…it's just a day, like any other day. Just one step closer to the end of the buffet…'cause we're waiting to die." (waiting to die) How does our culture see life after death? Is there any sense of hope or peace in this notion? How does this make you feel about those in this predicament?