Where Have I Heard That Before? World Rhythms in Cinema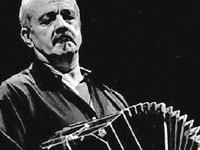 You may not be up on the latest world music, but chances are you've heard a wide selection of global grooves in an unlikely place…the cinema. With the increased emphasis on global issues in movies like Children of Men, City of God, and The Constant Gardener world rhythms play an increasing role in establishing global context in a film.
Below are some musicians whose talents have been recognized world-wide and whose talents have been tapped for soundtracks, scores and even appearances in films. For the sake of this article I am drawing primarily from American film releases. Many of the people listed below have made additional appearances in films and on television in their respective countries.
Astor Piazolla, (1921-1992) often referred to as "the master of the Nueva Tango" has a life story which reads like a suspense movie. His music can be heard in films like: Frantic (1988), Sur (1988), 12 Monkeys (1995), The Impostors (1998), and Alice et Martin (1998).
Algerian Rai rocker Rachid Taha has been the subject of a recent documentary "Khaled and Rachid Taha" which aired on Link TV. His music is featured in: Lionheart (1990), Alice et Martin (1998), Black Hawk Down (2001), The Good Thief (2002), The Truth About Charlie (2002), and Something New (2006).
The soul stirring vocal musings of legendary musician Nusrat Fateh Ali Khan (1948-1997) are featured in: Sammy and Rosie Get Laid (1987), Natural Born Killers (1994), Dead Man Walking (1995), Bend It Like Bekham (2002), Code 46 (2003), and Blood Diamond (2006).
Some may know Lisa Gerrard from her work in the band Dead Can Dance whose music crossed time and geographic borders in order to create unique atmospheric tracks. More recently she has lent her skills at scoring along with her hauntingly beautiful voice to films like: The Insider (1999), Gladiator (2000), Mission Impossible II (2000, Ali (2001), Whale Rider (2002), Black Hawk Down (2001), and Collateral (2004).
Afro Celt Sound System have worked with the likes of Peter Gabriel, Robert Plant and Sinead O'Connor in their recordings which blend Irish and African rhythms. Their unique rhythmic approach has garnered them space on soundtracks for: Stigmata (1999), Gangs of New York (2002), Hotel Rwanda (2004), Duma (2005), and Tristan & Isolde (2006),.
Youssou N'Dour is a huge star on the Ivory Coast. His recordings have been included in the soundtracks for: Bullworth (1998), The Wild Thornberrys Movie (2002), and Alone in the Dark (2005).
Bob Marley (1945-1981) penned music that remains relevant to this day. Since his death, his music has been featured on more than 50 soundtracks including: Club Paradise (1986), Cool Runnings (1993), In the Name of the Father (1993), Strange Days (1995), Notting Hill (1999), Black and White (1999), The Bachelor (1999), and Shark Tale (2004), Perfect Stranger (2007).
Music has become a critical component to our movie-going experience. The next time you watch a film take note of the music (or lack of) underscoring each scene. Notice whether it is pop music or not. Note the presence of world music. Note whether the music adds to or detracts from a scene. As you learn the voices of some of the key world musicians and composers you will identify them more readily when you hear them in a movie or at your local coffee house.