The Way, Way Back (Nat Faxon & Jim Rash, 2013)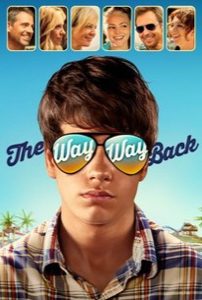 Trivia
The writer-director team of Nat Faxon and Jim Rash play 'Roddy' and 'Lewis' who work at the Water Wizz pool-park
In an interview, writer/director Jim Rash said the script's main inspiration was the opening scene—it was inspired by a similar conversation he had with his own stepfather when he was 14!
Steve Carell initially turned the movie down because he and his family go on vacation to his home state (Massachusetts) every summer. However, it was later discovered that the location of the film shoot was a short drive away from where Carell and his family vacationed enabling him to accept the role.
In the original script, the character of Caitlyn was a young teenager who worked in the park and had no significant screen time. In later drafts, Jim Rash and Nat Faxon decided to make the character older and have her interact more with Owen. When Maya Rudolph was cast, Rash and Faxon told Rudolph and Rockwell, that although there was not much in the script, the two actors would have to create a meaningful relationship between their two characters.
Copyright © 2014 Mark Ryan
Questions
1. What was your first impression? What lines of dialogue and what visual settings stood out to you? Why? What feelings did these moments evoke in you? 2. What genre might you assign this film to? What other films did it bring to mind? 3. Who are the main characters in the story? What do we know about them? In addition, what relationship dynamics most stand out to you? 4. Much of the film center around two similar, yet different settings—Trent's ocean-side home, and the local water park, Water Wizz. What is similar about these settings and what is it that distinguishes the one from the other for Duncan? Do you recall significant settings associated with youth? In what ways did such settings contribute to your gaining a sense of self? 5. One reviewer confessed upon simply hearing about this movie: "Really? Another movie about a shy, gawky, angsty teen boy who triumphantly overcomes his lack of a hot blonde girlfriend." Now that you have viewed this film and thought a little about it's main characters and the relationship dynamics they sustain, what do you identify as the theme of the movie? What suggestions do the opening and closing scenes, together with the film's title, offer us? How would you characterize the central story? 6. Thinking biblically… a) To what degree does this film help us think about family in the 21st century? (Is the scenario of "child/adult reversal" familiar to you? Is the reality of "coming of age" so often depicted in film something the Christian faith can speak to in a helpful way? While the evangelical church is known for its general embrace of "family values", to what degree are evangelical churches specifically engaging broken homes, dysfunctional relationships, and the resultant confusion of where one belongs? b) Erik Yates (Zeek Films) writes: "Ultimately, this film has a powerful message of community, and what a family truly is. Everyone is looking for a place to belong, where they can be themselves, with no masks or conditions. We all want to be accepted, warts and all. Family, ideally, is supposed to be that place. This film, however, shows… that family is often not a place of acceptance… This film does not seek to provide an answer for this dilemma as much as acknowledge its ever present reality in our lives." In light of 21st century dynamics—and the human longing for acceptance—how might the church serve those wrestling with isolation and struggling to mature? Are their things to be learned from the staff at the Water Wizz? If so, what might they be and what might these things entail for local congregations and Christian families? 7. Overall: Did you enjoy this film? What will you take away from having viewed it? What are its strengths? What are its weaknesses?
Source
The Way, Way Back credits Starring: Steve Carell (Trent) Toni Collette (Pam) Alison Janey (Betty) AnnaSophia Robb (Susanna) Sam Rockwell (Owen) Maya Rudolph (Caitlin) Liam James (Duncan) Rob Corddry (Kip) Amanda Peet (Joan) Writers/Directors: Nat Faxon and Jim Rash Producers: Nat Faxon, Jim Rash and others Cinematography: John Bailey Run time: 103min Release: 2013, USA Rated PG-13