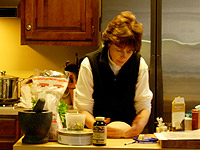 My daughter, Rachel and I sat down the other night to watch TV. She had been following Top Chef, so we flipped to the channel to see who was still hanging on.
The challenge for the day involved black truffles and a Schafer wine. The ingredients were introduced as "the food at the top of the food chain;" expensive truffles to go with a wine that is "untouchable at any price." The competing chefs were to prepare a dish that used the truffles and complemented the wine. Each was given $250 to prepare the dish, which would be judged by world class chefs and Mr. Schafer himself. They would evaluate on taste, presentation, creativity, and compatibility with the wine.
Drama and stress followed as the show unfolded. I turned to Rachel at a commercial and told her that I would hate that kind of pressure in the kitchen.
We live in a community where fast food is abundant. There are few fast food chains not represented within a 5 mile radius around our house. The lines at drive-through windows are backed up each day. I wonder what children are growing up thinking as they fuel up with paper wrapped food often eaten in the car on the way somewhere.
These two images of food—Top Chef and fast-food chains—and the purpose food serves, are a sad reflection of where we are as a society today. They fail to reflect what I love so much, and gain so much joy from, when I am cooking and feeding people.
I can appreciate the skill and gifts of the person who is able to prepare food in such a dramatic way in such a stressful setting. It tantalizes and wows the senses but it reduces eating to a sensual self-serving experience in which only a few can participate. One leaves the table unsatisfied, looking for the next, grander experience. Food in this instance has become like a drug, and only a very small percentage of the population will ever participate in this level of gourmandize.
And most of us have spent time in that line for fast food for all kinds of good reasons. We're traveling, rushing to or from work, or we're just too tired to prepare a meal. But when mealtime becomes a throw-away experience, we lose touch with a whole host of meaningful encounters that seem at first to have little to do with the basic act of eating.
We have come to believe that there is infinite value in moving quickly through every task with as little effort and time as we possibly can. We have one-stop supermarkets; internet/online bill payments; drive through everything-under-the-sun. Meal time, too, has become for many just one more thing to get through with as little trouble as possible; another task in an already hectic life.
I want to challenge this trend in our culture about how we think about food.
And yet we are always hungry. Hungry to be full, to be satisfied. Just filling our stomachs doesn't completely do it for us. We want more, we need something else—comfort, community, fulfillment, and we often trade one for another. We think we are cutting corners for all the right reasons, but what are we sacrificing in the process?
When we don't understand the care, for example, that goes into the growing of produce, the crafting of wines, beers, and cheeses, the raising of livestock, we fail to appreciate that there is a person, a craftsperson or artisan, or a wise earthy farmer who has put so much into what we only see as a final product. We lose sight of the fact that there is an individual whose life and life's work are all wrapped up in what we so quickly consume. Even in losing sight of such simple things as setting the table, and teaching our little ones how to do it, we lose touch with something of our humanity.
Where and how we eat is important, as well. The back seat of a car, the couch in front of the TV, a table stacked with papers, books, and bags, each speaks of chaos and confusion. Our children's first job around the house focused on the proper way to prepare the table for dinner. A table carefully set speaks of thoughtful preparation, anticipation of a time of shared enjoyment and connecting. They learned that mealtime was a time that required effort and planning and which created an environment where something real and authentic occurred. Scraped knees, name-calling by neighborhood kids, and broken toys were rehearsed, laughed over, comfort was given, perspective gained—we created a safe environment where our kids could begin to slough-off the burdens of the day. We rediscovered our center as a family. As our children became teenagers this was a vital time and helped them navigate those dangerous years.
Preparing food can and should be looked at as a gift we can give to others. God made us to need food and need it several times each and every day. And if you think about it, not only has he given us the ability to taste different flavors but he has created for us a countless variety of foods to eat and enjoy. What a gift. He also made us for fellowship; made us connoisseurs of one another, enjoying one another's gifts, cultures, facial expressions. All this requires intentionality. It takes care and thought to feed others, it takes interest and time to pursue relationships.
When our children were born I thought a lot about what and how I was going to feed them. Breast milk… yeah. That seemed healthy and natural. When it came to solid food, Stephen and I resonated with the fact that what we prepared ourselves was best for our growing babies, so I took care to buy the best we could afford, seasoned it appropriately, mashed it for them, and that was how they learned to eat. It was work; it took time and lots of planning and a commitment from us—but our children were worth it, and they (eventually) knew it.
An addendum (#1): Blessing the God of the food
We have a tendency to elevate the food rather than the Giver of food. But reflect on Psalm 104: 1, 14-15:
Bless the Lord O my soul
O Lord my God you are very great
You cause the grass to grow for the livestock
and plants for man to cultivate,
that he may bring forth food from the earth
and wine to gladden the heart of man,
oil to make his face shine
and bread to strengthen man's heart.
The traditional Hebrew blessing for food and wine are based on language such as is found in the Psalm: "Blessed are You, God, King of the Universe, Creator of the fruit of the vine." (Others respond: "Amen")
Even if we avoid making an idol of food, we can err in another, subtler way by asking God to "bless the food" and us and the missionaries, rather than blessing God—the giver of food and of every grace, and of every good. We are not suggesting that we cease to pray God's blessing upon missionaries, or upon ourselves. But we are drawn to the God-centeredness of this ancient attitude of blessing God, as the psalmist did. So, it is good to think about varying our habit by blessing the God who created the food, rather than asking God to bless the food we cooked.
An addendum (#2): an alluring effect
When Karen was nineteen, she told me one night that she would cook for me. She invited me to her mother's house and prepared a meal. Until then I had only observed her briefly in my own mother's kitchen when we had a group of high school students out for the day in the country. Even that glimpse afforded an alluring realization that Karen was confident and at home in the kitchen. My mother was an excellent cook, and of the three brothers I guess I showed the most interest in food, so I was given jobs in the kitchen from a young age. My big debut was as a teenager being given the job of preparing the Caesar Salad for a dinner party my parents gave for their friends. And I loved it. Thus my heightened interest when I realized that this young woman with the long wavy brown hair liked to cook, too.
But I was not prepared for the effect that her cooking would have on me. The fare was simple, but it spoke eloquently of the gift and blessing that making a meal can be. She made a simple meal of potato soup and southern cornbread—both from scratch. It was not fancy, but the care that went into its preparation, our enjoyment of the tastes and textures was more than just an experience of the senses. The food was the medium of a greater thing: a personal, human interaction. It was also one of the first in a long succession of times when we, and our children and friends connect at a table over food.
— Stephen Baldwin
Menu
Southern Cornbread
Potato Soup
"If you can learn to make soup and bread, you will never starve."
Most people have potatoes and onions in the house, so this is a simple and delicious soup that doesn't require expensive ingredients or a lot of time to prepare. While the vegetables are "sweating" there is time to mix up a pan of cornbread.
Potato Soup (Serves 4)
1/2 stick butter
3 cups peeled diced potatoes (Yukon Gold)
1 cup diced onions
1/2 cup diced celery (optional)
1 teaspoon salt
freshly ground pepper
3 1/2 cups chicken stock
1/2 cup half & half or cream
2 tablespoons chopped parsley or thyme
Melt the butter in a medium sized heavy saucepan. When the butter foams, add the potatoes, onions and celery. Toss them in the butter until well coated. Sprinkle with salt and pepper. Cover and sweat on a gentle heat for 10 minutes (do not allow the vegetables to color), add the stock and cook until the vegetables are soft. Puree the soup with a stick blender, or mash with a potato masher. Next add the chopped herbs. Taste and adjust the seasoning. Thin with half & half or cream to desired consistency. Serve topped with grated cheddar cheese.
Old Fashion Southern Cornbread
1 cup of cornmeal
1 teaspoon baking powder
1 teaspoon salt
1/4 teaspoon baking soda
1 cup buttermilk
1 egg
1-2 tablespoons of bacon grease or olive oil
Preheat oven to 450°. When the oven is up to temperature place a 7 to 8 inch iron skillet in the oven to heat.
Mix the dry ingredients together in a medium sized bowl. Mix the buttermilk and the egg together in small bowl, then add this mixture to the dry cornmeal mixture and beat well with a wooden spoon.
Add the grease or oil to the hot pan and swirl to coat the bottom—use a pot holder—the skillet will be really hot. Pour the cornbread batter into the hot pan and return to the oven.
Bake for 20 minutes until nicely browned on top and no longer soft in the center.
Invert on a warm plate, cut into wedges and serve warm. Serve with honey and butter if desired.