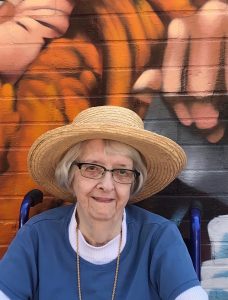 Earlier this summer we had this rather rash idea of taking Denis' mother to Cinco de Mayo in West St. Paul. We knew she'd never experienced such frivolity, having been sheltered all 94 years of her life from such worldly expeditions. The outing measured up. There were thousands out to celebrate. There were women and girls in brilliant fiesta dresses, and men in low riders dragging their underbodies on the pavement with sparks flying. Mariachi bands sang and danced and the scent of spicy chili and cheese enticed us to the street food vendors. Even the hilarious and ridiculous Lucha libre – the masked Mexican wrestling competition was featured.
That reminded us of the bizarre comedy movie, Nacho Libre, starring Jack Black who played a heroic role as a cook for a monastery. When the monastery faced a financial crisis, he thought he would help the house of God by becoming a wrestler. We had never seen Lucha libre in real life, but here they were pleasing the crowd with acrobatic slams, throws and fake injuries. We pushed her wheel chair right up to the edge of the ring where she declared them stupid. But I could see her smiling and watching wide-eyed. Denis and I were exceedingly entertained by their strutting and shouting insults. (sorry to disappoint those of you who thought better of us)
Lunch for Mom was a good old fashioned American hot dog, Tom Thumb donuts, topped off with a large butter pecan ice cream cone. No burritos for her, por favor. In the end, four hours was way too long for her. We should have known better.
She needed to use a bathroom and could only tell us she felt sick. It was never in her vocabulary to say I need to pee really bad. The stinking row of public porta-potties were no help to an elderly woman who can barely walk. We left as quickly as we could. Denis waited with the car illegally parked while I pushed her chair into a nearby Burger King only to find a line waiting outside the door. By then she had bowed her head into her hand feeling the agony of her body's need. I managed to put her in a stall, and waited until she emerged but I didn't know it hadn't worked. Later she admitted there was too much noise, too many waiting, and too much debris scattered on the floor. We hurried as fast as one can hurry in a wheelchair, bouncing it over a crowded sidewalk, off the curbs and back to the car. As we pulled into heavy traffic she once again expressed feeling very sick. Do you need to vomit, we asked? No. She still had to "go," but couldn't mention those words. It took another 20 minutes through traffic lights and onto the freeway before getting to an exit far enough away from the festival for a public facility. We were all silent. Denis was probably praying. Anita was driving as fast as she could and I was wondering, "God, no, will this be me some day?"
 Slow Breaking Brain and Body
We have noticed an increase in the stories she tells as her mind becomes untethered from reality. They have become more fantastical and delusional. Most recently she told us she had been making trips to the store for supplies and baking treats for all the events at the care center. She "knows" that the residents who pretend to be friends don't really care about her, they are only interested in what she bakes because it is so delicious. This she reports with a big sigh. The little exaggerations are numerous: she claims she walked around the building twice, in the nice weather. For a moment we believe, we hope. But when she mentions meeting up with neighbors who live in another city or have passed away long ago, and the staff tells us she rarely leaves her room, we nod in agreement with her stories and smile at one another. We are sad.
These days and the unknown number of months she has left to live keep me vigilant. We've no idea how long she will be here, but her departure could be soon. I'm tuned in. I'm paying attention. No one wants dementia. No one wants end-of-life expenses that eat all your finances and destroy the inheritance one hopes to pass on to their children. No one, but no one wants the end of life to be an enormous burden for their family or care-givers.
Being with her increases reflection on what life may bring to myself, to any of us. I don't want to be humiliated by my broken brain and body. But what choice do we have? Someone I know and love well plans to circumvent this by moving to Oregon and seeing a doctor who will end her life before the final stage. I can't do that. If suicide is out, and I believe it is, then what choice do we have except to endure life until the days God has numbered for us are over? And if the end of my days are hard, I will try to be comforted by how much better the next life will be. Unfortunately I have a tiny surfeit of imagination and this hyper jump to the next life seems long and difficult.
I've concluded that if I go slow and low in the end, by that time the lesson won't be so much about me anymore, but more about what my caregivers learn about patience and compassion. Believe it, I do not relish the idea of being anyone's lesson with this kind of suffering.
Before I reach that stage of life when I am aware that things are winding down, I want to learn to be more thankful. At this point, I could be doing better. I'm far too agitated by things gone wrong. Eyelids that blur my vision and rest heavy on my eyeballs, swollen knuckles and bent fingers that look as though I've been street fighting. Things too numerous to mention, but all of it accompanied by a high-pitched whine regretting my thinning hair and broadening thighs.
Carry us, Lord
I have a lengthy history of falling down. I can trip over anything. It is always a surprise bomb, that sprawling on the ground. Last weekend I was carrying a watermelon to the refrigerator in the garage. My mother-in-law was seated at the dining room table sorting jigsaw puzzle pieces. Denis was running an errand. Okay, I admit I was hurrying too fast when suddenly I tripped. With a loud bang, I tossed the watermelon (which luckily did not burst) and did a face plant on the tile floor. As I lay there assessing the damage, I was tempted to just stay awhile enjoying the cool surface because my mother-in-law hadn't even heard the fall, nor was she capable of helping if needed.
When I finally got off the floor I realized how much worse it could have been. I landed on both elbows and one knee. A toe quickly blew up and matched the crimson polish on my toenails, but other than a sore my elbow I was fine. (A few days later an x-ray revealed it was badly bruised not cracked.)
I limped back to the dining room determined to be more thankful for a body that has carried my weight, filtered my juices, and allowed me to see, hear, and taste the preciousness of life for many years. It has done a great job. So I pray, please, God, help me trust that you mean what you say when you tell us you will be with us even to the end of our days. Help me walk in this way with a better attitude. When I am doubting and even now before I fall into serious decline, tattoo this on my my forehead so I don't forget your grace and your love:
Even to your old age and gray hairs I am he, I am he who will sustain you. I have made you and I will carry you; I will sustain you and I will rescue you. Isaiah 46:4:
So be it, amen.
Care for the aging, more often than not, means confronting all men and women with their illusion of immortality out of which the rejection of old age comes forth. Care for the aging, after all, means care for all ages, since all human beings- whether they are ten, thirty, fifty or eighty years old- are participating in the same process of aging." Aging – The Fulfillment of Life by Henri Nouwen