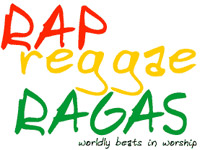 To limit ourselves in the realm of worship music to a safe repertoire of familiar hymns and choruses is to restrict the access of Christian worshippers to the rich palettes of music which have emerged for the glory of serving God. Three musical forms seeking to expand the palette for worship will be the focus of this article. I hope to show how Christian rappers have discovered an ideal conduit for preaching, teaching and taking the Gospel message to the people, how Reggae and Caribbean musical styles can help celebrate and glorify God—also how dub (a reggae singing style akin to rap) becomes a powerful medium for the message, and, how Indian ragas—or more specifically Yeshu Bhajans—provide very worshipful melodies for contemplation, meditation and prayer. Serving as the backdrop for this discussion are conversations I've had with St. Louis Christian Rapper Dishon Knox, who performs under the name Born 2 Di, Los Angeles Reggae Musician Mark Mohr, best known for his work with the band Christafari, and lastly, Chris Hale of the group Aradhna, who tour the globe performing Yeshu Bhajan style music.
Christian Rap and Holy Hip Hop
Christian rap and hip-hop styles have been around for quite some time. You will find it in its more commercial form with bands like DC Talk and Toby Mac along with artists on CCM record labels like Gotee Records. Aside from the mainstream kitsch, there has also been a major underground movement of Christian rap whose sounds, not unlike their gangsta' rap cousins, vary with the territory. Thus the West Coast has it's Christian rap sound as does the East; Detroit, Chicago and Saint Louis also have their own unique blends of Christian rap.
I have been blessed to get to know and work with Dishon Knox, a Covenant Seminary student who performs Christian rap under the name Born 2 Di. He is now winding up the recording and mixing of his first studio album. Not every Christian rap artist has seminary training, however there are several who do. Many in Christian rap recognize the importance of the theology behind their music. I asked Di about his approach to writing songs, " I make it a point to study the scriptures concerning that particular topic, making sure that I consider the full context of those scriptures to keep from giving them an isolated arbitrary meaning. Sometimes I will research certain Christian articles or books to dig deeper into the topic, usually these articles are from the Reformed perspective. Once all of that is said and done, my lyrics are always evaluated by my brothers in the faith as the final step of the process."
There has been some controversy in the Hip Hop community on the role of faith and how this extends into the musical sphere. When I spoke with Dishon about this he told me, "there is no place for Christianity within Hip-Hop, but there is room for Hip-Hop in Christianity. So long as the elements of a culture can be submit to the lordship of Christ, there is room for it within Christianity"
I found this strand on the Hip Hop website www.clarkboy.com:
Is it possible to have holy hip hop? According to [the DVD] "The Truth Behind Hip Hop" the answer is no. [With this DVD G Craige Lewis] claims that hip hop is a religion. However, many believe that the church can use rap music to reach out to young people. Some say that although man created hip hop, just as paper was invented by man to put the word of God on, hip hop can also be be used for God's purpose.
"Holy Hip Hop" is the title of a new DVD presented by Christopher Martin, better known as Play from the rap duo Kid 'n Play. He says that he has personally witnessed how Christian rap music can be used as a powerful outreach tool to advance the gospel, positively impact and change lives for the better.
But what is holy hip hop? According to Wikipedia, gospel rap uses Christian-themed lyrics to convey positive messages and express the rapper's faith. While many mainstream rap artists include rhymes about God and Jesus, artists such as Kanye West, DMX, Nas and Tupac Shakur are not considered Christian hip hop, as their lyrics focus on worldly, often profane matters.
Christian hip hop and rap artists tend to be professed Christians, and use the fact that they are urban or suburban as a positive issue to spread their faith, and like all Christian music, it can be experienced as worship.
Christian hip hop has a history of being dismissed by churches as sacrilegious, or devil music. G Craige Lewis makes a living out of preaching his 'anti-holy hip hop' message. No money, no support, and no funded albums were the experience of many artists, but many see Christian rap as being on the brink of mainstream success.
[Source: http://clarkboy.com/holyhiphop.htm]
On this issue Di explained that the hop hop community shares one commonality—sin. "Seeing how dramatically the world, church, and humanity have been affected by the fall make me want to try to provide the godly solution," he said. "The goodness of the Lord, just His character in general makes me desire to better understand Him and how our lives should relate, in light of knowing Him. So from my desire I want to help others to understand the character and goodness of God so that they too may be drawn to Him."
The music of Born 2 Di speaks to its intended audience like a sermon. The hip hop backbeats keep his music from coming off preachy. In his song "Chronicles" be draws from scripture and C.S. Lewis to establish the basis of his apologetic:
"Chronicles" (Born 2 Di – lyric excerpt):
This ain't Narnia or Riddick/But like the two books in the Bible, I got a Chronicle to be specific/ It's bout the LORD of the lords, the King of the kings/And it comes in three parts, kinda like the movie "Lord of the Rings"/Immanuel was unnaturally born/It was GOD and He came down in a natural form/He contradicted the natural norm/Then He said "peace be still" and He stopped the storm/Walked water, no skis, just heel and toe/Fed five thousand men with a snack like a Lunchable/40 days no lunch and no,/ He ain't flinch when the devil tried to tempt Him, He shook the blow/Gave sight to the blind, healed the paralytics/A walking emergency room, He was the paramedics/Basically proved that He's GOD although He never said it/So now Christians prove that He's GOD through the apologetics.
In another song he talks about how being a Christian is not about being cool. Probably the only rap song I know to speak of recidivism, Yeshua and "handlin' heat" in the same verse:
"Outcasts" (Born 2 Di – lyric excerpt):
Seekin' to be popular Christians is nonsense/Cause sinners shouldn't be feelin' us (liking us) like chaste nuns in a convent/Cause Christians who love the world is contradictory symbolism/Like constant progression with concurrent recidivism/ Lemme be honest, I know it's a struggle man/Desires to be included will get you in trouble man/But don't be ashamed/[Baruch Ashem]/Bless the name/Yeshua Ha Meshiach, He'll see us through the pain/ In the era where braggarts boast of how they handlin' heat (carrying guns)/They gamble and cheat/This the gospel they hand to the streets/So we gotta grow in grace and truth/Rep' Christ as the Way and Truth/ From workhouse to your workout/So they see Christ when they look at you/Do all things with excellence/Despise moral decadence/Live the gospel in every aspect, and if you need to speak then represent/I ain't suggestin' we at war with unbelievers/ Show them love/But the truth should make them love us or make them leave us.
The music of Born 2 Di and others recording in this vein (see Holy Culture Radio's website— holycultureradio.com—for more samples) is not music I would take to the congregation for the sake of praising God. This music is message music. Its aim is to be the sermon. As we approach Christian rap as a legitimate worship style, we need to understand it in its ripest context.
Gospel Reggae
For many the word Reggae brings about the stereotypical image of a dread-locked-Jamaican- Rasta smoking "da'erb" and talking about "Jah-maica 'mon." What most people don't know is that Reggae's roots are intrinsically linked to Ethiopian Orthodox Christianity. Rastafarianism, the religion most associated with Reggae music, utilizes the Bible as its key sourcebook of their faith. The music by nature is meant for praising "Jah." It is not too far of a stretch to adapt these Caribbean flavored rhythms for the praise of "Jah"-sus Christ.
There are a number of Christian musicians who utilize Reggae as a means of worship and praise of Jesus (many are on the Lion of Zion record label); also, a number of Rastafarians who have converted to Christianity, have recorded some critical albums with very scripturally rooted foundations. Among these, Yabby Yoo (aka Jesus Dread) and Judy Mowatt (formerly a back-up singer for Bob Marley). An interesting sidebar, that's worthy of much more exploration than I can offer here, is that there is much evidence to support that Bob Marley himself made a profession of faith to Jesus Christ through the witness of his family's Ethiopian Orthodox Priest shortly before his death—a fact the Rastafarian community would prefer was kept quiet.
In terms of contemporary CCM circles, the reggae band Christafari rose up in the mid-1990s to enjoy fairly major success before record label problems and personality issues forced a messy break up upon the band. Later, Christafari's lead singer Mark Mohr, resurrected the band and started his own label—Lion of Zion—for the purpose of supporting Christian reggae, hip hop and other ethnic music styles. I spoke with Mark a couple years back about his missional approach to music. He is an ordained pastor and was in the process of planting churches in the Caribbean when I caught him on his cell. He spoke to the whole breadth of ethnic music styles out there, saying, "music is the common language. The styles of music are the language. It's like that with all these different genres of music. There are so many genres that aren't being used for Christ." Mark continues in this vein with a quote from his website, "There are many that say that some musical styles are of Satan. But God is the Creator of all music, and there is nothing new under the sun. Satan can't create all that he can do is twist and distort. I believe that music is neutral and that what counts is the message, the messenger and their lifestyle. I believe that we should embrace any musical style that is done for the Messiah regardless of the genre's supposed origin or its similarities to other's artwork. However, don't get me wrong, I am not suggesting to imitate the world, but rather to set the standard."
Mark's approach to each concert is to give it up to the Lord. He typically terms a show as being "reggae worship" with a portion of each concert "dedicated to preaching the Gospel clearly and giving people the opportunity to accept Christ." And although they don't stop the concert to do this, they clearly "incorporate the message in between our songs, and in our musical interludes. We pretty much keep the music going on the whole time. We also make sure to take time out at the end of our concerts to personally minister to the audience."
Here is an example of one of Christafari's praise songs:
Can't Stop (Christafari, lyric excerpt)
You know I can't stop praising you Lord, You know I won't stop praising You Lord
What a Joy it is to see all the things He's done for me
I am singing alleluijah, Giving out thanks and praises to the Father
In another song he sings out about hypocrisy and Pharisee-ism:
Modern day Pharisee (Christafari, lyric excerpt):
Look the way that you live your righteousness worn on your sleeve. You're working so hard to be good to convince that you've done your duty. You are a pillar of society. A righteous man you claim to be. So well respected in your church, you know it's by grace you've been saved and that not of your works Modern Day Pharisee.
With recent releases there are scripture references along with lyrics in the liner notes:
Blood and Fire (Christafari, lyric excerpt)
You've got the freedom from what you've done, you've got the freedom (Rom 6:18), cause you've been saved by the blood of the Son (Eph 1:7). You've got the freedom from what you've done, you've got the freedom, cause you've been saved by the blood of the Son (Rev 1:5). And so me sing Holy, Holy, Holy is the Lord God Almighty. Who was and is and who is to come (Re. 4:8). The precious gift of Jehovah's anointing (1 Jn 2:20), the lifeblood that was shed by His Son (1 Pet 1:18-19). And so me sing, and so me sing, and so me sing.
The music of Christafari has grown more bold in its challenge to take the faith to the streets:
Warriors (lyric excerpt)
For we no wrestle against flesh and blood, but spiritual wickedness in high and low places (Eph 6:12). You see we have an enemy; his name is Satan, and he will tempt us with his lies and his deception (1 Pet 5:8 & 1 Cor 10:3). But no weapon formed against us shall prosper (Isaiah 54:17). And it is through Jesus Christ that we will conquer (Rom 8:37). So soldiers, take your sword (2 Cor 10:4), the living Word of God (Heb 4:12 & Eph 6:17)- read it, memorized it and quote it (Josh 1:8), and use it to battle against the enemy (Matt 4:1-11). For if God is for us, then who can be against? (Rom 8:31) Christians…. Fight the good fight. Don't give up the faith (1 Tim 4:1-11).
Raga and Yeshu Bhajan: Worship Music of India
Last on our tour of musical styles that are being utilized for worship is that of Yeshu or Krista Bhajan which incorporates traditional musical styles of India into the context of high praise for Jesus Christ. A few years back I stumbled upon the site of Chris Hale, a musician who attended Berklee College of Music about the same time that I had in the late 1980s. Hale had grown up the son of missionaries to India. While at Berklee he put together a band the fused jazz, rock and Indian rhythms together. They released a couple CDs and toured India. This led him to further study with master musicians in India where he studied Krista Bhajan intensely and used his research and field recordings as part of his doctoral thesis. Today Chris records and performs Yeshu Bhajans around the world with the band Aradhna.
On the Aradhna website (aradhnamusic.com) it states: "the path (marga) of Bhakti is one of loving devotion and complete surrender to God. In this ancient tradition, music and worship play a fundamental role in the expressions of the bhakta (devotee). These devotees might be a few people gathered around a dholak drum player in a camphor-lit temple, professional singers in a concert hall, or simply a family gathered in the home. Their songs are called Bhajans (songs of devotion). Bhajans can be heard sung late into the night or in early morning hours all over the world wherever there are bhaktas. Over the last few centuries some poet-singers of the Bhakti tradition in India have become followers of Yeshu. In keeping with their cultural heritage, they began to compose bhajans to Sri Yeshu."
I have had the chance to talk to Chris and his band mates about this music. In one of our conversations he shared how, "India is huge and has all kinds of people who respond in all kinds of ways. Bhajans are by far the best Indian form of spiritual music to learn." He made sure to point out that there is other Christian music in India that has not succeeded in stirring people to praise (think Bollywood meets CCM–in other words, pretty scary).
In one of the quotes from an interview we did a few years back, Christ stated that "all over India there are multiple expressions of Christian faith, from Santa Claus and Christmas Cake, to saffron robes and shaved heads, from villagers singing in a mud hut with no ornaments, to organ playing what a friend we have in Jesus in Hindi, to a Dolak drummer playing as loud as he can to a rousing song of praise to Christ in a folk rhythm. But what you find also is a mix of all these in a place. For example out in a village you might find that the church has some young folk there who managed to locate a guitar, meet some missionary who went to Bible school, and learned a bunch of songs ranging from 'This is the day that the Lord has made' to a really indigineous Indian song. To search for pure expressions of indiginization in a changing India is almost impossible, nor perhaps wanted. But in Varanasi I have seen a worship every Sunday that is very Indian, everyone sits on the floor, sings bhajans, the man who leads is a sanyasi (a celebate monk from South Africa but of Indian origin) and he uses many of the Sanskrit and Hindu phrases redefining them in the context of his faith in Christ."
In the lyrics that follow you will get a sense of the psalm-like craft involved in creating the poetry and beauty of each lyrical form:
"He He Prabhu" words and music by Peter John
You are the incarnation of God, the sacrifice for sinners
Put your Spirit over me, O Lord of mercy
You are the Lord of all, the Lord of the World
If there is anything unpleasing within me
Cleanse me from it, all-knowing Father
O Lord, Master of all things, fill me with your love
Mold me in your likeness; fill me with your love
O Lord, Master of all things, fill me with your love
You left your throne in heaven because of your love for me
You became a man; you are the True Incarnation
O Lord, Master of all things, fill me with your love
You healed eyes of the blind; the shadow of the leper you made whole
You even raised the dead; Your ways are too great for me to understand
O Lord, Master of all things, fill me with your love
Teach us how to love, teach us to walk in these ways
I always pray, O Lord, Master of all things, fill me with your love.
"Naam Leo Re" words and music by Anil Dev
Take the name of Jesus, sing the name of Jesus
The blessed name of Jesus, sing the name of Jesus
You are my shield from sin, you have taken my punishment
Holy, attractive, and beautiful is the name of my Jesus
Grant me peace, give me strength
Holy, attractive, and beautiful is the name of my Jesus
You give me a heart of devotion and the gift of salvation
Holy, attractive, and beautiful is the name of my Jesus
The Yeshu Bhajan leads the listener on a worshipful path; the Carribean rhythms of Gospel Reggae fill the heart with joy and praise; and Holy Hip Hop seeks to reach the heart of a culture that is looking for answers in consumerism, sex and violence. There is a hope that through a sharp lyrical sermon hearts and minds will change. All of these musical styles seek advancement in the Kingdom of God. What we can learn from our musical brethren is that all this music, when offered up to God, can be worshipful, it can change our hearts, and it can teach us critical lessons to get people on the path to Christ. People like Dishon Knox, Mark Mohr and Chris Hale expand the repertoire of familiar hymns and choruses providing access to a wider array of Christian worshippers to experience rich palettes of music which have emerged for the glory of serving God.