Poetry: Midnight Sledding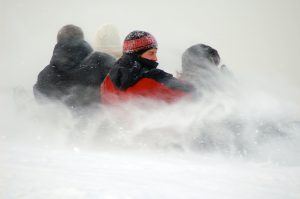 Midnight Sledding
            (December 31, 2009)
A last December sled down Grandpa's hill,
Surprised to see beneath a bright blue moon,
A seldom second light at end of year,
Bouncing, we laugh then slide through half-dark air.
Too soon too fast to steer we skip and tilt
Now spinning back to see our shrinking start.
We know we'll find a bump at the bottom
Where the frozen pond levels all our runs.
Still, there's a kind of thrill not knowing when,
Or if at this run's end we'll pass the mark,
Or just wipe out, a shock of snow on skin.
As after moon its fullest witness bears,
If, so surprised at first to find this fun,
Then why not dare to trust another run?
Copyright © 2020 Samuel Hamer
Samuel Hamer is a practicing attorney in Minnesota. He earned degrees in physics from Wheaton College and in law from Harvard Law School. His occasional poetry considers themes of faith, doubt, and family. Sam lives with his wife, Naomi, and three boys near Minneapolis.
Photo by Hal Gatewood on Unsplash