Junebug (Phil Morrison, 2005)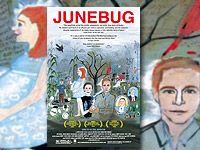 Occasionally, I'm approached by a friend or a friend of, regarding a movie. In this instance, a pastor inquired about Junebug. When I sought his motivation, he simply stated that he thought being "Southern" might offer some unique insight or understanding.
Well, having been born and raised in Texas, I have to admit, I had a similar sense. Southern and childhood church nostalgia filled my mind. From the muffled rustle of worn soled shoes scratching the sidewalk tops to humid must and beady sweat cyclically dropping in repeated succession from brow to earth. From the aroma of macaroni and cheese atop apple pie lined up across that red and white checkered table cloth adorned with family dish to the a capella hymn echoing in the fellowship hall. These images scrolled and overwhelmed my emotional ticker as I engaged the southern ballad of Angus Mac Lachlan's and Phil Morrison's Junebug.
Undoubtedly for those who have tasted small town life, a church potluck, the South, or family drama (that last one gets most of us), Junebug is an exploration of the soul and the inevitable nuances of family life. Yea, a first hand taste of 'southern' heritage will likely garner a rich appreciation, but it isn't necessary to enjoy the movie.
Shot on location in their native Winston-Salem, Morrison brilliantly directs the poignantly soft and simple writing of MacLachlan. It is at its most simple a story about family on par with Ordinary People (1980). Morrison notes that it was meant "to explore the difficulty created by relationships based on patronage, however well meaning." It tackles the "challenges of communicating across great divides" and examines how such relationships "glorify the peculiar and convince us to view what is common as 'cliché'."
Junebug's a fixation of wonder on the incessant drama of family life and gives ample opportunity to pluck your pick of emotion from the familial tree: from prickly mother Peg, to taciturn father Eugene, to angry brother Johnny, to innocently garrulous Ashley. All in all, it's a film that is most enjoyed with a hearty spoonful of patience as both character and narrative, complete with southern visual flair, churn slowly like good ole buttermilk.
The story: Madeleine is a Chicago dealer of outside art and has stumbled upon a reclusive gem, David Wark, and his colorful and bombastic creations of Civil War art in the Carolinas. Her new and younger husband George is a native North Carolinian and her lucrative business transaction and the chance to meet his family creates the ideal opportunity for a road trip. The crux of the story's tension intersects at Johnny and the innocence of Ashley (cue "As the World Turns" theme) as resentment surfaces when 'golden boy' older brother George comes home and leaves Johnny in purposeful limbo while Ashley is in effervescent anticipation of her beautiful new sister-in-law. Family dynamics swell as Peg, in skeptical disdain of her new daughter-in-law, grows hard to handle as Eugene, in melancholy juggle, is reduced to the work of the 'little Dutch boy' hoping to keep the leaky familial damn from breaking in.
This movie is inspired by "moments" in movies; the often "transcendent moments" that make a movie worthwhile. "I could see opportunities to attempt those moments" noted Morrison and the hope of these moments converging unto something "worthwhile" was the motivation. Roger Ebert has a finger on the pulse of this film: It's "a great film because it is a true film. It humbles other films that claim to be about family secrets and eccentricities. It understands that families are complicated and their problems are not solved during a short visit, just in time for the film to end. Families and their problems go on and on and they aren't solved they're dealt with."
I must admit a personal hypnotism of nostalgia tends to cloud my bias here but this movie is poetic and charming. However these great thumping questions that metronome in our minds might greet you, peaceful and parallel rivers upstream inevitably create white water before merging downstream. In other words, relationships are the embodiment of our pursuit of meaningful identity and they undergird our sense of stability in day to day life. Family is the essential focus of our sitcoms, our movies, our music, our advertising, etc. and humbly I declare that the gospel of grace is truly familiar with and not immune to such realities—and yet Christ is sufficient in the merging rage.
The irony with knowledge sometimes is that our questions don't necessarily produce concluding answers but simply more questions. As I watched and reflected on the film, this irony became itchingly real and true. Initially, it was simply, what is family? How do our traditions and values sink or swim in the intermingling of contrary ones? How does the human condition handle the intermixing of traditional values? What communication and cultural divides hinder our connections? There are lots of questions, but are there definitive answers? I invite you to ponder.
I think at least one is noted in Ashley's (Amy Adams) simple wish, "All I really want is for Johnny to love me like he did in high school." Perhaps many of us, if not all, can attest to the challenge of the emotional dip of a goal conquered or met. It's one of marriages great adversaries. I think a simple observation would conclude that we all long for assurance. We want and need to know that not only when all is well, but when hope is dim, that we have dependability in our family and beyond. The Church is no different with numerous triumphs and tragedies in its repertoire. The Church, the whore Gomer, arm in arm with our great 'bridegroom' Christ is the pinnacle of sacrifice and dependability (see Hosea and Ephesians 5). It may seem simple and cookie cutter Sunday school-esque but gospel truth be declared: "But you are a chosen people…that you may declare the praises of him who called you out of darkness and into his wonderful light. Once you were not a people, but now you are the people of God…" (1 Peter 2:9-10). There is hope.
Junebug is a meaningful movie and a worthy opportunity to reflect on our home and the body of Christ, the Church universal.
Questions
1. We often equate personal preferences for style into terms of quality, i.e. good or bad movie. Do you consider Junebug a good or bad film? What defines a good/bad film? 2. Can you relate to the 'southern' imagery? How do images help steer our understanding/appreciation movies? This movie? 3. Could you relate to any of the family dynamics? If so, what? 4. What significance does the religiosity have in the film? Is it genuine, cultural or both? 5. What stereotypes, if any, does the film exploit or celebrate? 6. What is the significance of the hymn "Softly and Tenderly Jesus Is Calling" to the characters? To the movie? 7. It seems as though religion is rarely presented in favorable light in modern movies. How does this movie compare? 8. The typical stereotypes of southern life, Roger Ebert noted, of "provincial hick" and the city slicker as "materialist" is avoided. Do you agree or disagree? Why? 9. Are there any redeemable characters? If so, who? 10. What, if any, sense of redemption does this movie establish?
Source
Junebug credits: Starring: Embeth Davidtz (Madeleine) Alessandro Nivola (George Johnsten) Frank Hoyt Taylor (David Wark) Scott Wilson (Eugene Johnsten) Ben McKenzie (Johnny Johnsten) Celia Weston (Peg Johnsten) Amy Adams (Ashley Johnsten) R. Keith Harris (Bud, pastor) Director: Phil Morrison Screenwriter: Angus MacLachlan Producers: Mark P. Clein, Ethan D. Leder, Daniel Rappaport, Dany Wolf Original music: Yo La Tengo Cinematography: Peter Donahue Runtime: 106 minutes Release: Sony Pictures Classics, U.S.A., 2005 Rated: R (for sexual content and language)