A Gentleman in Moscow (Amor Towles, 2016)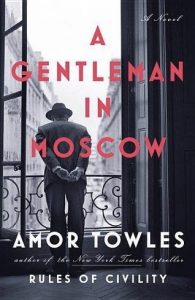 Faithfulness in exile – a review of the novel A Gentleman in Moscow
The year is 1922. Count Alexander Ilyich Rostov, a 32-year old Russian aristocrat is living in the Metropol, a grand old hotel situated across from the Kremlin. The Bolsheviks view him as a dangerous relic of the old order and condemn him to live within the walls of the hotel. If he steps outside, he is told, he will be shot. He is ordered to vacate his suite, filled with art and heirlooms, and to move into a small attic room with a few belongings.
When one experiences a profound setback in the course of an enviable life, one has a variety of options. Spurred by shame, one may attempt to hide all evidence of the change in one's circumstances. Thus, the merchant who gambles away his savings will hold on to his finer suits until they fray, and tell anecdotes from the halls of the private clubs where his membership has long since lapsed. In a state of self-pity, one may retreat from the world in which one has been blessed to live. Thus, the long-suffering husband, finally disgraced by his wife in society, may be the one who leaves his home in exchange for a small, dark apartment on the other side of town. Or, like the Count and Anna, one may simply join the Confederacy of the Humbled.
            Like the Freemasons, the Confederacy of the Humbled is a close-knit brotherhood whose members travel with no outward markings, but who know each other at a glance. For having fallen suddenly from grace, those in the Confederacy share a certain perspective. Knowing beauty, influence, fame, and privilege to be borrowed rather than bestowed, they are not easily impressed. They are not quick to envy or take offence. They certainly do not scour the papers in search of their own names. They remain committed to living among their peers, but greet adulation with caution, ambition with sympathy, and condescension with an inward smile. [p. 196]
A Gentleman in Moscow opens with Rostov's summons before the Emergency Committee of the People's Commissariat for Internal Affairs, and ends 32 years later. I don't often like happy endings, but the final pages of A Gentleman in Moscow took my breath away.
The Metropol is not a bad place in which to be exiled—it is luxurious and impressive, a city unto itself. Still, Count Rostov was a world traveler, visiting galleries, ballrooms, cafes and palaces with his peers. Now his world is restricted, his rights erased, his dignity assaulted.
Count Rostov has every reason to be angry and cynical, but instead he remains a man of civility. Author Towles is concerned for civility: his first novel, Rules of Civility (2011), includes an appendix, "The Young George Washington's Rules of Civility and Decent Behaviour in Company and Conversation." Throughout Rostov remains content and makes his attic room a home. He treats his oppressors with dignity, not because he is fearful but because though petty and cruel, they remain persons. The staff of the hotel—he knows every individual's name and story—remain loyal because he listens, and cares, and is willing to serve. He makes lifelong friends and even adopts a young girl whose mother is unable to care for her.
Crafted with stunningly effective prose, there were sections so striking I had to pause, reread them and then read them aloud to Margie. Towles is a superb writer. Lovely character development, surprising twists, keen humor, and poignant, believable relationships made me dread reaching the final page.
The novel also allows a glimpse into the banal wickedness of the Soviet system. Towles does not rail against it, merely reveal in the unfolding of his story the foolishness of Soviet Marxism.
A Gentleman in Moscow is finally a tale about what it looks like to be faithful as an exile in one's own land. It reveals the significance of virtue and contentment, of civility and love. Rostov's world has changed but rather than rail against it he cares for those within reach and not only flourishes while living in the shadows, but helps others do the same.
Novel highly recommended: A Gentleman in Moscow by Amor Towles (New York, NY: Viking; 2016) 462 pages.