LETTERS FROM THE HOUSE BETWEEN
#1 2018
Publication Date: 1/10/2018
Dear Friends,
There have been a few random thoughts running through my head the past couple months as I reflect on the past year. You know, both Denis and I turned 70 in 2017. Since then I've been chewing on that like a piece of gristle and choking a little over this whole thing of getting older. This chewing brings up some niggling questions. Like, what have you done with your life that is worthwhile? Where's my energy gone? Where's my resolve for following through on projects I've begun? How come I can't seem to keep up with what EVERYone else is doing? (As usual EVERYone is exaggerated and refers to the three or four amazing people who haunt me.)
LETTERS FROM THE HOUSE BETWEEN
#4 2017
Publication Date: 11/23/2017
Dear Friends,
Remind us again, Lord. We're sheep of your pasture? Well, yes. Psalm 23 is full of images familiar to me because my family once owned a flock of sheep. In the Bible, God often compares us to his sheep. I'm not offended because, truthfully? I share some of their mind fog and an unfortunate lack of common sense. However, the meaning of "thy rod and thy staff, comfort me" puzzles me. A stick comforts? As a child, my sticks had nothing to do with comfort. We tried to hit one another with sticks, we poked them into ant hills and wasp nests and cow pies. They were swords for battle and sometimes made our behinds sting when a parent grabbed them from our felonious little hands. This is comfort?
With four young hens as animal tutors this year, I've gained a little theological insight. They are handsome egg layers, but like sheep, they aren't that smart. I allow them to free-range in our yard occasionally and like to think they love me because they follow me when I'm in the yard, even as they pause to peck the green grass and eat God knows what.
LETTERS FROM THE HOUSE BETWEEN
#3 2017
Publication Date: 08/16/2017
Dear Friends,
Although I'm dedicating this letter to Katy B. who has begun a dangerous journey, please come along, all of you, for none of us knows at what point ours will end. Let's all pray we arrive slathered with God's lavish grace.
Two Guys who ran and won
I recently learned that a writer I respect and love died last month from brain cancer. In 2014, he published a book of prayers you need to get – A Book of Uncommon Prayers: 100 Celebrations of the Miracle and Muddle of the Ordinary by Brian Doyle. I always look for his essays in a lit magazine I get, but it has been about a year since anything appeared. Now I see why….
LETTERS FROM THE HOUSE BETWEEN
#2 2017
Publication Date: 06/01/2017
Gradually the wall colors of House Between have been changing from real-estate beige (every room was such a yawner the problem had to eventually be addressed when I found the time and, hey, the money to do it) to much more vibrant and interesting hues. We moved in almost three years ago and currently the most recent victim of my obsession has been the living room. I happened to pick Poised Taupe, which is Sherwin Williams' color of the year, for the change. Honest. I wasn't trying to be trendy or hip, it just seemed to fit and blend especially well with the fireplace bricks and our art. And who names paint colors, anyway? I want that job….
LETTERS FROM THE HOUSE BETWEEN
#1 2017
Publication Date: 03/01/2017
"Choose whatever you like!" We were sitting in the Bustard's living room looking through a stack of original prints and the artist was making an offer we couldn't refuse. Ned Bustard, editor, publisher of Square Halo Press in Lancaster, PA, is a printmaker creating art, not with paint and brush, but with cutting tools as he chisels lines on a blank piece of linoleum block where figures, words and designs come to life in black ink. Indeed?! I chose three that captured my imagination….
LETTERS FROM THE HOUSE BETWEEN
#4 2016
Publication Date: 011/31/2016
From the moment it was hauled through the front door, I hated that pine-green naugahyde couch. It stand like cat pee and the surface stuck to your bare skin. But it was something to sit on, and it was a free hand-me-down that came during our magical, poverty-stricken third year of marriage. By year sixteen we'd owned and offed many free used couches. They weren't to my taste, but still we were thankful for remodeling projects that made our friends' possessions obsolete, like the perfectly useable harvest-gold refrigerator from friends who upgraded to the fashionable black-appliance era….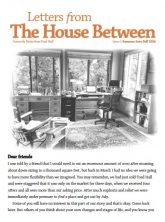 LETTERS FROM THE HOUSE BETWEEN
#3 2016
Publication Date: 08/31/2016
If it were up to me I'd be blasting judgment from my throne. I would wipe out – the Zika virus, the ex-president of FIFA and the Japanese beetles attacking my garden. This summer we wonder how bad can it get? We are horrified by violence. Helpless in the face of corruption and crime, death and politics. Why does God allow it?…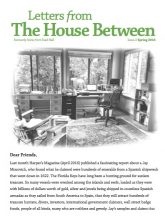 LETTERS FROM THE HOUSE BETWEEN
#2 2016
Publication Date: 06/06/2016
Last month Harper's Magazine (April 2016) published a fascinating report about a Jay Miscovich, who found what he claimed were hundreds of emeralds from a Spanish shipwreck that went down in 1622. The Florida Keys have long been a hunting ground for sunken treasure. So many vessels were wrecked among the islands and reefs, loaded as they were with billions of dollars worth of gold, silver and jewels being shipped in countless Spanish armadas as they sailed from South America to Spain, that they still attract hundreds of treasure hunters, divers, investors, international government claimers, wall street hedge funds, people of all kinds, many who are ruthless and greedy.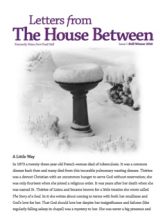 LETTERS FROM THE HOUSE BETWEEN
#1 2016 Still Winter
Publication Date: 02/09/2016
In 1873 a twenty-three-year-old French woman died of tuberculosis. It was a common disease back then and many died from this incurable pulmonary wasting disease. Thérèse was a devout Christian with an uncommon hunger to serve God without reservation; she was only fourteen when she joined a religious order. It was years after her death when she was named St. Thérèse of Lisieu and became known for a little treatise she wrote called The Story of a Soul. In it she writes about coming to terms with both her smallness and God's love for her. That God should love her despite her insignificance and failures (like regularly falling asleep in chapel) was a mystery to her.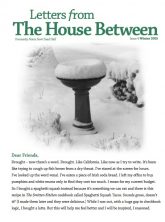 LETTERS FROM THE HOUSE BETWEEN
#4 2015 Winter
Publication Date: 11/30/2015
Drought – now there's a word. Drought. Like California. Like now as I try to write. It's been like trying to cough up fish bones from a dry throat. I've stared at the screen for hours. I've looked up the word venal. I've eaten a piece of Irish soda bread. I left my office to buy pumpkins and white mums only to find they cost too much. I mean for my current budget. So I bought a spaghetti squash instead because it's something we can eat and there is this recipe in The Smitten Kitchen cookbook called Spaghetti Squash Tacos. Sounds gross, doesn't it? I made them later, and they were delicious.
LETTERS FROM THE HOUSE BETWEEN
#3 2015 Summer/Fall
Publication Date: 09/08/2015
You do not want to begin your day finding a note on the counter that reads, "Emergency in garage. Freezer door left open. Everything melted. Blood dripping on floor. Love, Anita" She had to leave for an early appointment, otherwise I know she would have helped clean up. When I looked into the garage, I saw a river of water mixed with blood running across the floor and puddling under our car….
LETTERS FROM THE HOUSE BETWEEN
#2 2015 Spring
Publication Date: 09/08/2015
"No More" – the 2014 pro-football ad campaign against domestic violence declaring that men should not physically abuse their partners came to mind. Wasn't that a ground-breaker. In this instance, however, "violence" was complicated because Denis, my pacifist husband who claims he never dreams, was having a nightmare.
LETTERS FROM THE HOUSE BETWEEN
#3 2015 Still Winter
Publication Date: 03/02/2015
It seems like I fall a lot. This is disturbing. If you spend that kind of unexpected contact with the ground, simply looking down can make you anxious. Maybe you fall down, too, but you don't mention it? In January of 2014, I wrote in my journal that I had fallen while taking the garbage to the trash. I tripped on a brick step out by the alley, tore my pants and bruised my knees. In May of 2014 on my way out of the bank I fell because I was in a hurry to do my good deed for the day and make everyone love me and think I am indispensible. For awhile I lay on the sidewalk contemplating this do-good philosophy that was not doing me or God any good.
LETTERS FROM THE HOUSE BETWEEN
#2 2014 Winter
Publication Date: 12/02/2014
Tonight the barred owls are calling. We hear them in the darkness beyond our deck. Some say they call, "Who cooks for you? Who cooks for youuuu?" We saw a long-legged coyote pass through the back yard, he paused for a moment to look in the patio door. Perhaps he saw Honeysuckle sitting in her pen, a nice little morsel nibbling apple branches. His mouth may have watered, but he trotted on. The evening crickets and peepers are silent now. It's a sign of cold weather. The crickets die, I think, but the peepers and toads bury themselves and emerge next spring to sing again. We've been here five months.
LETTERS FROM THE HOUSE BETWEEN
#1 2014 Summer
Publication Date: 08/18/2014
I was told by a friend that I would need to eat an enormous amount of crow after moaning about down-sizing to a thousand square feet, but back in March I had no idea we were going to have more flexibility than we imagined. You may remember, we had just sold Toad Hall and were staggered that it was only on the market for three days, when we received four offers and all were more than our asking price. After much euphoria and relief we were immediately under pressure to find a place and get out by July.