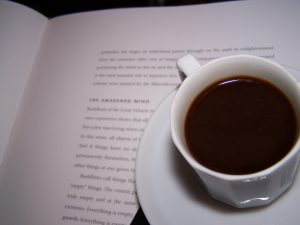 Gentle Readers:
When we post new articles on this website they don't appear on our home page with trumpets blaring. Only new blog posts appear on the home page (minus the trumpets of course). Instead they are a bit hidden in dropdown menus and so won't be obvious to you unless, of course, you drop down the menus and look for them. So, get yourself a cup a coffee—here is some new reading you might appreciate:
Every Moment Holy is a new book that might just revolutionize your walk with God. Filled with prayers for ordinary moments—e.g. Before Consuming Media, For Laundering, Lament Upon Finishing a Beloved Book, Before Shopping—it gives us words for times we didn't know words were needed. Filled with prints by artist Ned Bustard, a helpful book is made into a work of art. Find out more here.
Sapiens and Homo Deus, both by Yuval Noah Harari, who teaches at the Hebrew University of Jerusalem, tell the story of humankind from a secular perspective, as if all of life is to be understood without reference to divinity or transcendence. There is much to discuss here, in a narrative that shapes the social imaginary of many of our neighbors. Read my review here.
In Beautiful Light: Religious Meaning in Film, Calvin College prof Roy Anker gifts us with another not-to-be-missed book on the movies. A wise and godly guide, Anker helps us be more faithful in watching movies and in the process helps us see all of life with greater clarity. I review Beautiful Light here.
The popular film, Wonder Woman, is probably being eagerly discussed by your friends and neighbors—and it should be because it is a remarkable superhero movie. Covenant Seminary prof provides a thoughtful discussion guide, which you can find here.
In "Technology and the Biblical Story," Calvin College professor of computer science Derek Schuurman examines technology in light of the four-part story of scripture, Creation, Fall, Redemption and Restoration. It'll be interest to all those who discover there is technology in their daily life. Read his essay here.
And by the way: all these pieces will appear in Critique 2018:1, which hasn't even been printed and mailed yet. See this as a chance to read it in advance.